Triclosan: Take Action!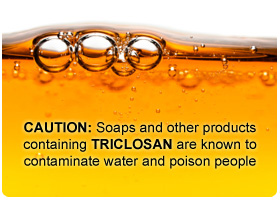 Triclosan is used in many personal care products we buy, including fabrics and plastics where it is used as a preservative. And while triclosan is marketed as a protector against germs and bacteria, it is actually doing more harm than good, contaminating our bodies, polluting waterways and creating antibiotic resistant bacteria.
Since the 2004 publication of "The Ubiquitous Triclosan," Beyond Pesticides has been exposing the dangers of this toxic chemical. Now, along with Food and Water Watch and over 80 environmental and public health groups, Beyond Pesticides is leading a national grassroots movement calling for the ban of Triclosan from consumer products. We are calling on manufacturers, retailers, school districts, businesses and communities to wash their hands of Triclosan and protect our water and health from this toxic pesticide. With your help we can do it.
Featured actions
Join Beyond Pesticides, Center for Environmental Health, and The Campaign for Safe Cosmetics in asking Bath and Body Works to stop selling triclosan-containing products that claim to "Spread Love, Not Germs." Consumer products, especially those that are marketed to and used by preteens and teens, should not have harmful chemicals in them. This is unacceptable. Click here to send an email to Bath & Body Works' CEO Diane L. Neal.
Other Consumer Actions:
Ask your local supermarket, cosmetic store, local businesses or co-op to stop selling triclosan products. Customize this sample letter and take it in to your local retailer customer service manager.
Encourage your local schools, government agencies, religious institutions and businesses to use their buying power to go triclosan-free. Urge your municipality, institution or company to adopt the model resolution which commits to not procuring or using products containing triclosan.
Sign the pledge to go triclosan-free.
Other ways to help
Want to do more?
We are looking for individuals to complete this short, multiple choice survey. Please share the survey (http://triclosan.questionpro.com) with your family and friends, as well as any relevant blogs or email lists. It is important to educate the public and see an accurate picture of consumer knowledge and preference.
We want to hear from you! Tell us want to have done or plan to do to help your community go triclosan free.