Hazards of Pesticides for Children's Health
Children face higher risks than adults from pesticide exposure due to their small size, their tendency to place their hands close to their face or in their mouth, the activities they engage in on or near the ground, their greater intake of air and food relative to body weight, their developing organ systems, and other unique characteristics. In addition, the probability of an effect such as cancer, which requires a period of time to develop after exposure, is enhanced if exposure occurs early in life.
Some health issues explicitly linked to pesticide use include: the impaired ability to fight infection, autism, testicular defects, childhood cancer, leukemia, breast cancer, cognitive development, asthma, and impaired sexual development. These impacts need to be addressed both in schools and nation-wide.

Asthma, Children and Pesticides
To explore just one issue: Since the mid-1980s, asthma rates in the United States have skyrocketed to epidemic levels, particularly in young children. In the U.S. alone, around 16 million people suffer from asthma. Asthma is a serious chronic disorder of the lungs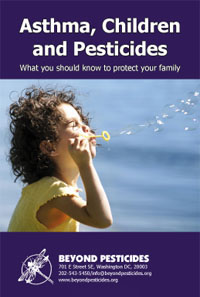 characterized by recurrent attacks of bronchial constriction, which cause breathlessness, wheezing, and coughing. Asthma is a dangerous, and in some cases life-threatening disease. Researchers have found that pesticide exposure can induce a poisoning effect linked to asthma.
Alert: Send a postcard to your school asking them not to spray pesticides that contribute to childhood asthma.
Nearly 1 in 8 school-aged children have asthma. This rate is rising most rapidly in pre-school aged children.
Asthma is the leading cause of school absenteeism due to chronic illness. Every year, asthma accounts for 14 million lost days of school.
Asthma is the third-ranking cause of hospitalization among those younger than 15 years.
The number of children dying from asthma increased almost threefold from 1979 to 1996.
The estimated cost of treating asthma in those younger than 18 years is $3.2 billion per year.
Low-income populations, minorities, and children living in inner-cities experience disproportionately high morbidity and mortality due to asthma.
For more information, download the full, 16-page color booklet, Asthma, Pesticides and Children: What you should know to protect your family, (color brochure version, cited version) or contact Beyond Pesticides to order color hardcopies of the brochure, 202-543-5450.
En Español: El Asma, los Niños y los Pesticidas: Lo que usted debe saber para proteger a su familia, (el folleto a color, el folleto con citaciones).

Take Action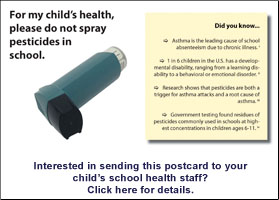 September is the perfect time of year to remind schools that you are concerned about the use of pesticides in their facilities and on their grounds and the effectiveness of non-toxic pest management approaches. To that end, we have, with the School Pesticide Reform Coalition, put together a postcard that we would like you to send to your school in an effort to nurture the involvement of health staff.
Send your postcard today. Read more...