Resources
Resources and Toolkits
Poison Playgrounds: CCA Risks and Alternatives, A Beyond Pesticides Resource Kit
Wood Preservatives State Legislation Kit
Victims of Wood Preservatives Tell Stories of Poisonings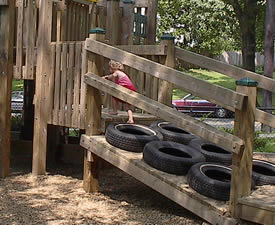 Poison Playgrounds: CCA Risks and Alternatives A Beyond Pesticides Resource Kit
Arsenic has been in the news and it is widely known that exposure to this cancer causing agent is not good, especially for children. Arsenic is a component of chromated copper arsenate (CCA), a wood preserving pesticide that is registered for use by the Environmental Protection Agency (EPA) and widely used in the manufacture of playground equipment. In February 2002, EPA announced that beginning January 2004 CCA-treated wood will no longer be manufactured for decks and patios, picnic tables, playground equipment, walkways/boardwalks, landscaping timbers, or fencing. However, CCA-treated wood can be sold off until supplies are exhausted and already existing residential CCA-treated structures may continue to be used.
Scientific studies prove that the three chemicals that make up CCA, namely arsenic, hexavalent chromium (chromium VI) and copper, are leaching out of CCA-treated wood into the soil around structures and onto the surface of the treated wood. Scientists have documented that children put their hands into everything including their mouths; but, of course, parents already know this. When you add all this together the outcome is clear --children's health is at risk because they are ingesting arsenic and chromium (VI) leaching from CCA-treated playground equipment.
This Resource Kit will give you the facts on CCA so that action can be taken in your community to protect children.

Wood Preservatives State Legislation Kit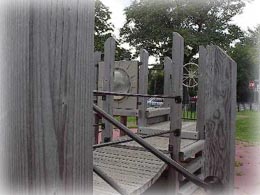 Victims of Wood Preservatives Tell Stories of Poisonings