Triclosan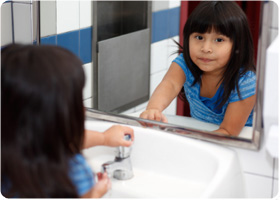 Triclosan, one of the most prevalent antibacterial compounds found in products, is the focus of a campaign undertaken by a coalition of health and environmental groups led by Beyond Pesticides and Food & Water Watch, aimed at removing triclosan from the market. Over the last few years, as a direct result of pressure from consumer groups and the media regarding the need for triclosan in consumer products and the mounting scientific evidence documenting adverse health effects, including impacts to the thyroid hormone, major manufacturers have quietly reformulated their products without triclosan.

Studies have increasingly linked triclosan (and its chemical cousin triclocarban), to a range of adverse health and environmental effects from skin irritation, endocrine disruption, bacterial and compounded antibiotic resistance, to the contamination of water and its negative impact on fragile aquatic ecosystems.
When introduced to the market in 1972, triclosan was confined to hospital and health care settings. Since then triclosan exploded onto the market place in hundreds of consumer products ranging from antibacterial soaps, deodorants, toothpastes, cosmetics, fabrics, toys, and other household and personal care products. Triclosan's success on the consumer market has been aided by the false public perception that antibacterial products are best to protect and safeguard against potential harmful bacteria. However, an article in the journal Clinical Infectious Diseases, entitled "Consumer Antibacterial Soaps: Effective or Just Risky?" (2007), concludes that antibacterial soaps show no health benefits over plain soaps. In 2010, FDA stated that, "Existing data raise valid concerns about the [health] effects of repetitive daily human exposure to [triclosan]" and announced plans to address the use of triclosan in cosmetics or other products.
See a list of common products containing triclosan.
Recent Updates

Resources
Sign the Pledge. Join the campaign to end the consumer use of triclosan.
Triclosan Model Resolution. Get your municipality, institution or company to adopt this resolution to not buy products with triclosan and supporting broader elimination of non-medical uses.
Regulatory and Policy. The latest information and history on legal procedures to ban consumer uses of triclosan.
Find triclosan-free products from a list of companies who have already signed the pledge to be triclosan-free.
Factsheets:
Update Archives
Beyond Pesticides, Center for Environmental Health and Campaign for Safe Cosmetics urges Bath and Body Works to stop selling Triclosan products. With flavors like "tangelo orange twist," and "sugar lemon fizz," popular body care chain, Bath and Body Works, has marketed an entire line of antibacterial body care products to teens and young adults. Unfortunately, these products contain the toxic hormone disruptor and water contaminant, triclosan, which could be hazardous to teenagers whose bodies are still developing. Join us in asking Bath and Body Works to stop selling triclosan products that claim to "Spread Love, Not Germs."
Overwhelming support for the petition to ban Triclosan. Over 10,000 individuals told EPA, via email and docketed comments, to ban the dangerous antibacterial triclosan. Additionally, scores of public health and advocacy groups, local state departments of health and the environment, as well as municipal and national wastewater treatment agencies submitted comments requesting an end to triclosan in consumer products. EPA published the petition for public comment in December 2010 and closed the comment period on April 8, 2011. Beyond Pesticides once again urged the agency to ban the uses of triclosan in consumer products citing risks to human and environmental health.
Act by April 8, 2011. Let EPA know that it's time to ban triclosan. EPA has extended the comment period for another 60 days to April 8, 2011.Your voice is critical in generating public comments on a petition, published in the Federal Register, to ban the antibacterial chemical triclosan. As you may know, this chemical, now found in the bodies of 75% of the US population, is linked to endocrine disruption, bacterial and antibiotic resistance, dioxin contamination, and contaminated fish and biosolids.
EPA announced a 60-day public comment period for the petition filed by Beyond Pesticides and Food and Water Watch to ban the controversial antimicrobial pesticide triclosan for non-medical use. The petition, filed on January 14, 2010, identifies pervasive and widespread use of triclosan and the agency's failure to address triclosan's impacts on human and environmental health, conduct assessments for residues in drinking water and food and concerns related to antibacterial resistance and endocrine disruption. The petition cites various violations of numerous environmental statues including the Clean Water Act, Safe Drinking Water Act and the Endangered Species Act.
Comments are accepted until April 8, 2011 at www.regulations.gov. Direct comments to docket number: EPA–HQ–OPP–2010–0548. When commenting, please specify the statute to which your comments refer (FIFRA, FFDCA, SDWA, CWA, or ESA) and the specific issue(s) raised in the petition regarding that statute on which you are commenting. (December, 2010)
Congresswoman Urges FDA to Ban Triclosan. House Rules Committee Chairwoman Louise M. Slaughter and two colleagues asked the U.S. Food and Drug Administration (FDA) to ban triclosan due to the hazards that this chemical poses, including antibiotic resistance and potentially leading to higher health care costs, citing both Beyond Pesticides and Food and Water Watch's petition currently pending before the agency (November 2010).
Newly released data from the Centers for Disease Control and Prevention (CDC) finds that levels of triclosan in humans have increased by 50% since 2004 (August 2010).
Beyond Pesticides tells FDA that Triclosan is too hazardous to the aquatic environment. In response to the agency's request for environmental data regarding tricosan's use in certain over the counter products, Beyond Pesticides and others reminded the agency that it must recognize that significant adverse environmental impacts will occur with continued triclosan use (May 2010).
FDA says, "existing data raise valid concerns" regarding exposure to triclosan. FDA is considering action in light of a petition submitted by Beyond Pesticides, and others, and in response to a letter from Rep. Markey (April 2010).
Beyond Pesticides, Food & Water Watch and more than 80 organizations petitioned EPA to ban triclosan for non-medical applications on the basis that uses violate federal laws regulating pesticides, clean and safe drinking water, and endangered species (January 2010).
Looking for a product free of triclosan? Find one from a list of companies that have signed the pledge to be triclosan-free.
Take Action! Learn how you can help end the unnecessary use of this toxic antibacterial chemical. Stay in the loop on triclosan and other issues by joining us on Facebook.