Products Containing Triclosan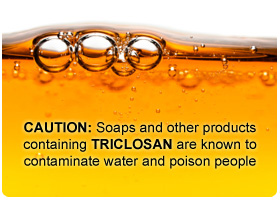 DISCLAIMER: Due to public pressure, many major manufacturers have quietly begun reformulating their products without triclosan. Product formulations may change without notice. Below is a small sampling of products formulated with, or used to be formulated with triclosan and is not to be considered a comprehensive list. Remember to always refer to product labels to determine whether triclosan is contained in your product. Some retail outlets may still carry older formulations. Look out for labels that state: "antimicrobial protection." Some antibacterial soaps may use triclosan's cousin, triclocarban, in place of triclosan.
Soap: Dial® Liquid handsoap and bodywash; Tea Tree Therapy™ Liquid Soap; Clearasil® Daily Face Wash; Dermalogica® Skin Purifying Wipes; DermaKleen™ Antibacterial Lotion Soap; CVS Antibacterial Soap, Ajax Antibacterial Dishsoap, Kimcare Antibacterial Clear Soap, Bath and Body Works Antibacterial Hand Soaps, Gels and Foaming Sanitizers.
Dental Care: Colgate Total®; Breeze™ Daily Mouthwash; Reach® Antibacterial Toothbrush
Cosmetics: Garden Botanika® Powder Foundation; Mavala Lip Base; Movate® Skin Litening Cream HQ; Paul Mitchell Detangler Comb, Revlon ColorStay LipSHINE Lipcolor Plus Gloss, Babor Volume Mascara, Phytomer Perfect Visage Gentle Cleansing Milk, Phytomer Hydracontinue Instant Moisture Cream, Bath and Body Works Antibacterial Moisturizing Lotions.
Deodorant: Arm and Hammer® Essentials Natural Deodorant; Queen Helene® Tea Trea Oil Deodorant and Aloe Deodorant; DeCleor Deodorant Stick; Epoch® Deodorant with Citrisomes.
First Aid: SyDERMA® Skin Protectant plus First Aid Antiseptic; Healwell Plantar Fasciitis Night Splint; Solarcaine® First Aid Medicated Spray; Nexcare™ First Aid, Skin Crack Care; : Universal Cervical Collar with Microban.
Kitchenware: Farberware® Microban Cutting Boards; Franklin Machine Products FMP Ice Cream Scoop SZ 20 Microban; Hobart Semi-Automatic Slicer; Chix® Food Service Wipes with Microban; Compact Web Foot® Wet Mop Heads.
Other Personal Care Products: Murad Acne Complex® Kit, ®; Diabet-x™ Cream; Scunci Microban Comb, Sportslick Pocket Slick.
Clothes: Biofresh® socks, undergarments, tops and bottoms.
Office and School Products: Ticonderoga® Pencils with Microban Protection, Avery® Touchgaurd View Binders, C-line® products, Clauss® cutting instruments, Costco® products, Sharp® printing calculators. Westcott® scissors
Other: Bionare® Cool Mist Humidifier; Deciguard AB® Antimicrobial Ear Plugs; Bauer® Re-Akt hockey helmet and 7500 hockey helment; Miller Paint Acro Pure Interior Paint; Holmes Foot Buddy™ HMH120U Antimicrobial Foot Buddy Foot Warmer, Blue Mountain Wall Coverings, California Paints®, Davis Paint® Perfection, Hirschfield's Paint®,O'Leary Paint®, EHC AMRail Escalator Handrails, Dupont™ Air Filters, Winix Dehumidifiers, J Cloth® towels, select Quickie cleaning products, Kimberly Clark® WYPALL X80 Towels, Canopy® kitchen towels, ALUF Plastics®, BioEars earplugs, Petmate® LeBistro feeders and waterers, Infantino cart covers and baby carriers, Oreck XL®, Bissell Healthy Home Vacuum™, NuTone® Central Vacuum systems, Rival® Seal-A-Meal® Vacuum Food Sealer, CleenFreek SportsHygiene Yoga Mat, Resilite Sports Products, Rubbermaid® Coolers, Stufitts sports gear, Venture Products® fitness mats, Custom Building Products, DAP®Kwik Seal Plus®, Laticrete, Niasa Biquichamp® mortar grout and sealant, ProAdvanced Products.
For more information on products containing Microban, the antibacterial product containing triclosan go to their webpage.