Golf, Pesticides, and Organic Practices
The game of golf has long brought friends and families outside to spend time together. But behind the highly manicured, weed-free greens and fairways of golf courses often sit storage sheds filled with a toxic assortment of synthetic fertilizers, herbicides, fungicides, and insecticides. These chemicals can harm golf course workers and players, drift onto neighboring properties, seep into ground or well water, and devastate local wildlife.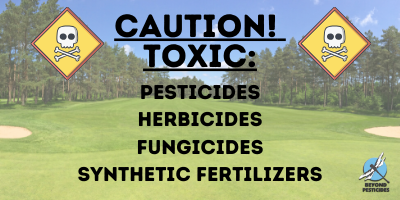 GOLF CAN GO ORGANIC
Increasingly, golf course superintendents are making this connection, and working with environmental experts and local residents to improve the public health and ecological footprint of their greens and fairways. This work is not easy. While the methods used to maintain an organic golf course are similar to those used to maintain an organic lawn, the high expectations placed on golf courses require significant time, attention, and willingness to experiment.

Soil health must be prioritized. Soils must be regularly aerated, kept at a proper pH and nutrient content, seeded with the right grass seed, and watered carefully. Cultural practices are emphasized so that least-toxic and biologically based pesticides are used only as a last resort.
The success of organic and ecologically managed golf courses throughout the US show that this effort is worth it. Workers, players, and surrounding community members are at less risk of adverse health impacts, and local wildlife thrives.
Watch Superintendent Kevin Banks discuss his experience managing The Vineyard Golf Club in Edgartown, MA through Organic Practices:
The best time to start transitioning a course is now. Watch Superintendent Will Benson Discuss his experience quitting toxic pesticide use on Laurelwood Golf Course in Eugene, OR:
Beyond Pesticides supports Environmental Principles for Golf Courses in the United States, and the adoption of Organic Practices. If you live near a golf course, learn more about how communities are encouraging their public courses to transition to safer practices, and how you can help Green your Local Course. See the Resource page for additional background on golf and pesticide use.