Center for Community Pesticide and Alternatives Information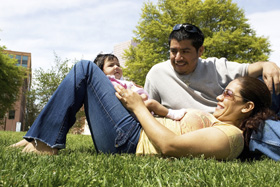 The Center for Community Pesticide and Alternatives Information serves as the central distribution vehicle for information on the hazards of pesticides and alternatives to their use. It houses activities and projects that: (1) stimulate widespread education on the hazards of toxic pesticides, particularly as they relate to children, and the availability of effective alternative pest management approaches; (2) influence decision makers responsible for pest management to use alternative means of pest control; and (3) encourage the adoption of local, state, and national policies that stringently restrict pesticide use and promote alternative approaches.
Beyond Pesticides' Center for Community Pesticide and Alternatives plays a critical leadership role in the pesticide reform movement by providing the public with information on pesticide hazards and alternatives to their use. Experienced and trained staff — utilizing background materials assembled over nearly two decades at the Beyond Pesticides office — are able to assist the public with a broad range of issues, questions, resources, and strategies to address their concerns. Media utilize the Center's information services to assemble background information, thus amplifying Beyond Pesticides' ability to promote information, as well as its message, on pesticides and alternatives.
See our online resources to the left, email us, or call us at 1.202.543.5450.
Pesticides 101
2011 National Pesticide Forum
An introduction to pesticide issues, this presentation was given at "Sustainable Community: Practical
Solutions for Health and the Environment," Beyond Pesticides' 29th National Pesticide Forum, April 8–9,
2011 in Denver, Colorado. The speaker is Caroline Cox, Beyond Pesticides board member, and research
director, Center for Environmental Health in Oakland, California.