Past Conferences
Beyond Pesticides' National Pesticide Forum brings together top national scientists with local and national activists and concerned citizens to share information on the issues local communities are facing, craft solutions and catalyze networks to manifest positive health and environmental policy and change. The conference focuses on these ranging from organic food systems, pollinator protection, community activism, and ecosystem science—incorporating national and regional issues.
This annual event has been held in cities nationwide, including most recently:
2022 Virtual Conference
39th National Pesticide Forum
Meeting the Health, Biodiversity and Climate Crises with a Path for Livable Future
2021 Virtual Conference
38th National Pesticide Forum
Cultivating Healthy Communities
37th National Pesticide Forum
Organic Strategies for Community Environmental Health: Eliminating pesticides where we live, work, learn and play.
Irvine, CA
36th National Pesticide Forum
Organic Neighborhoods: For Healthy Children, Families, and Ecology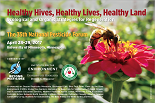 Minneapolis, MN
35th National Pesticide Forum
Healthy Hives, Healthy Lives, Healthy Land
Portland, ME
34th National Pesticide Forum
Cultivating Community and Environmental Health
Orlando, FL
33rd National Pesticide Forum
Agricultural Justice, Age of Organics, and Alligators
Portland, OR
32nd National Pesticide Forum
Advancing Sustainable Communities: People, pollinators and practices
Albuquerque, NM
31st National Pesticide Forum
Sustainable Families, Farms and Food: Resilient communities through organic practices
New Haven, CT
30th National Pesticide Forum
Healthy Communities: Green solutions for safe environments

Denver, CO
29th National Pesticide Forum
Sustainable Community: Practical solutions for health and the environment

Cleveland, OH
28th National Pesticide Forum
Greening the Community: Green economy, organic environments and healthy people
Carrboro, NC
27th National Pesticide Forum
Bridging an Organic Future: Opportunities for health and the environment
Berkeley, CA
26th National Pesticide Forum
Reclaiming Our Healthy Future: Political change to protect the next generation
Chicago, IL
25th National Pesticide Forum
Changing Course in a Changing Climate: Solutions for health and the environment
Visit Beyond Pesticides' YouTube Channel to watch the Forum Playlists.