Sustainable Families, Farms and Food Resilient Communities Through Organic Practices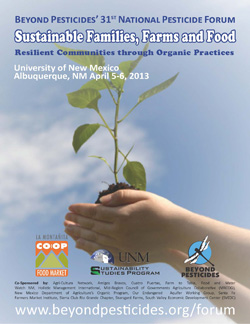 The 31st National Pesticide Forum
University of New Mexico
Albuquerque, NM
April 5-6, 2013
Thank You!
Thanks to everyone who attended and helped organize our 2013 conference (see program), and a special thank you to our Forum sponsors. Read below for highlights from the Forum, read the program, or download a postcard or flier from the 2013 conference in Albuquerque, NM.

Videos from the 31st National Pesticide Forum are NOW AVAILABLE on YouTube! Click here to watch.

Were you at the Forum? Please fill out an evaluation survey to let us know what you think. Click here if you would like to be added to the forum participants list to get in touch with other participants and speakers at the forum (this list will only be shared with other participants, and not be published publicly).
More on the Issues
We learned a lot from the speakers at this years conference, and are eager to keep up the momentum. Learn more about the issues Beyond Pesticides is working on that were discussed at the Forum, and take action to protect health and the environment:
Organic Food and Farming
Protecting Pollinators
Program Highlights
Beyond Pesticides' 31st National Pesticide Forum brought together top national scientists with local and national activists and concerned citizens to share information on the issues local communities are facing, craft solutions and catalyze networks to manifest positive health and environmental policy and change. The 2013 conference focused on organic food systems, building resilient communities, and bringing ecosystems back in balance—incorporating regional issues such as water and food sovereignty in the Southwest.
See some of the videos from the forum here.
Grassroots Organizers. Cutting Edge Scientists. Organic Solutions. In addition to bringing together scientists to present the latest findings on the hazards of pesticides, the forum featured a plethora of people who are both practicing the most cutting edge solutions to the pesticide problem, and working to address it in their communities. Some of the speaker highlights include:
Jeff Moyer, organic farm manager at Rodale Institute;
Richard Moore, program director for Los Jardines Institute, and senior advisor for Southwest Network for Environmental and Economic Justice (Southwest Network);
Courtney White, founder and dreative director at The Quivira Coalition;
Joel Forman, MD, one of the lead authors of the American Academy of Pediatrics (AAP) report on organic foods;.
Tyrone Hayes, Ph.D, UC Berkeley professor and researcher on the effects of pesticides on frog development;
Isaac N. Pessah, Ph.D., UC Davis professor, chair of the Department of Molecular Biosciences at the University of California, and researcher on the effects of pesticides on human health;
Andrew Kimbrell, public interest attorney, activist, author and Executive Director of Center for Food Safety;
Lani Malmberg, director of Ewe4ic Ecological Services, which provides goat grazing service for noxious weed control, fire reduction, re-seeding, watershed management, and land restoration;
And many more! For a full list of speakers, click here.
Friday Night Performance: A Sense of Wonder, followed by panel discussion.

A Sense of Wonder, which is written, produced, and performed by Kaiulani Lee, is the story of Rachel Carson's  love for the natural world and her fight to defend it. It is the story of the extremely private Ms. Carson thrust into the role of controversial public figure with the publication of Silent Spring. This powerful one-woman, two-act play brings to life on stage Ms. Carson's passionate message on the adverse health and environmental effects of pesticides, just as these toxic chemicals were becoming an increasingly common part of modern life. Kaiulani Lee brings to the writing and acting of A Sense of Wonder and Can't Scare Me, the story of Mother Jones more than 35 years of experience in theatre, film and television. Ms. Lee has starred in over a dozen plays on and off-Broadway. She has been nominated for the Drama Desk Award on Broadway and has won the OBIE Award for outstanding achievement off-Broadway.
Organizers

The conference was convened by Beyond Pesticides, University of New Mexico Sustainability Studies Program and La Montanita Food Co-op.
Local co-sponsors included: Agri-cultura Network, Amigos Bravos, Cuatro Puertas, Farm to Table, Food and Water Watch NM, Holistic Management International, Mid-Region Council of Governments Agriculture Collaborative, New Mexico Department of Agriculture's Organic Program, Our Endangered Aquifer Working Group, Santa Fe Farmers Market Institute, Sierra Club Rio Grande Chapter, Skarsgard Farms, South Valley Economic Development Center (SVEDC). Interested in becoming a local co-sponsor? Let us know!
---
Watch videos from the 30th National Pesticide Forum. For more information, including the speaker line up and schedule of events from last year's conference, download the brochure.
THANK YOU! The generosity of our sponsors helps make conferences a great event year after year. The sponsors listed below contributed to the 31st National Pesticide Forum scholarship fund, making it possible for people from around the country to participate in one of the most important grassroots pesticide meetings of the year. Learn more about becoming a sponsor. Click on the logos for more information.