Pesticide-Induced Diseases: Body Burden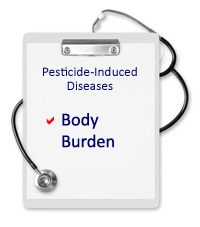 Most people are unaware that they carry chemical compounds in their bodies. Chemical 'Body Burden' refers to the accumulation of synthetic chemicals found in pesticides, cosmetics, industrial solvents, heavy metals, etc in our bodies. At any given time, hundreds of chemicals can be found in blood, urine, breast milk and even umbilical cord blood. Many of these chemicals enter our bodies through the foods we eat or drink, products we put on our skin and air we breathe. Before birth, people normally carry a body burden inherited from their mothers. Scientists believe the typical human being hosts close to 500 chemicals in various compartments in the body, mostly in fatty tissue. Many chemicals are broken down in our bodies and their metabolites are eliminated, but others linger in our bodies for a lifetime and can increase our risk for certain diseases such as cancer and Parkinson's disease.
Over the past decade, agencies like the Center for Disease Control and Prevention (CDC) have been tracking chemical burden in the general public by analyzing blood and urine. Termed "biomonitoring," it is considered to be the most health-relevant assessment of exposure because they "measure the amount of the chemical that actually gets into people, not the amount that may get into people." Since 2001, CDC releases its "National Report on Human Exposure to Environmental Chemicals" which documents the environmental chemical exposure in the U.S. population.
Jump to: Breast Milk • Farmworkers and Farmworker Children • GMOs • Infants/Children • Obesity • Oxidative Stress • Skin Reactions/Diseases • Urine and Other Compartments • Wildlife
Breast Milk
Farmworkers and Farmworker Children
GMOs
Emerging weed resistance increases tillage intensity and greenhouse gas emissions in the US corn–soybean cropping system


Tillage is a common agricultural practice that helps prepare the soil and remove weeds. However, it remains unknown how tillage intensity has evolved and its effect on net greenhouse gas (GHG) emissions. Here, using a process-based modelling approach with a multi-source database, we examined the change in tillage intensity across the US corn–soybean cropping systems during 1998–2016 and the impact of tillage intensity on soil GHG emissions. We found that tillage intensity first decreased and then, after 2008, increased, a trend that is strongly correlated with the adoption of herbicide-tolerant crops and emerging weed resistance. The GHG mitigation benefit (−5.5 ± 4.8 TgCO

2

e yr

−1

) of decreasing tillage intensity before 2008 has been more than offset by increased GHG emissions (13.8 ± 5.6 TgCO

2

e yr

−1

) due to tillage reintensification under growing pressure of weed resistance. As weed resistance persists or grows, tillage intensity is anticipated to continue rising, probably increasing GHG emissions. Our results imply that farmers' choices in managing herbicide resistance may help mitigate agricultural GHG emissions, underscoring the importance of an alternative strategy to control weeds.


[Lu, C., Yu, Z., Hennessy, D.A., Feng, H., Tian, H. and Hui, D., Nature Food, 3(4), pp.266-274.]
Maternal and fetal exposure to pesticides associated to genetically modified foods in Eastern Townships of Quebec, Canada
Study analyzed blood samples for 39 nonpregnant women and 30 pregnant woman and their fetuses and finds pesticides associated with genetically engineered (GE) foods are present in maternal, fetal and nonpregnant women's blood. Baccillus thuringiensis (Bt) was detected in 93% of maternal blood samples, 80% of fetal blood samples and 69% of the nonpregnant women's blood. Glufosinate was detected in 18% of nonpregnant women's blood but not detected in maternal and fetal blood. It's metabolite, 3-mehtylphosphinicopropionic acid (3-MPPA), however, was detected in 100% of maternal and umbilical cord blood samples and in 67 % of the nonpregnant women's blood. Visit the Genetic Engineering page and Daily News.
[Aris A, Leblanc S. Maternal and fetal exposure to pesticides associated to genetically modified foods in Eastern Townships of Quebec, Canada. Reprod Toxicol (2011)]
Infants/Children
Obesity
Oxidative Stress
Skin Reactions/Diseases
Urine and Other Compartments
Wildlife