Triclosan: Regulation and Policy
(December 8, 2010) EPA announced a 60-day public comment period for the petition filed by Beyond Pesticides and Food and Water Watch to ban the controversial antimicrobial pesticide Triclosan for non-medical use. The petition filed on January 14, 2010 identified pervasive and widespread use of Triclosan and the agency's failure to address Triclosan's impacts on human and environmental health, conduct assessments for residues in drinking water and food and concerns related to antibacterial resistance and endocrine disruption. The petition cites various violations of numerous environmental statues including the Clean Water Act, Safe Drinking Water Act and the Endangered Species Act.

Congresswoman Urges FDA to Ban Triclosan.
(November 19, 2010) House Rules Committee Chairwoman Louise M. Slaughter and two colleagues asked the U.S. Food and Drug Administration (FDA) to ban Triclosan due to the hazards that this chemical poses, including antibiotic resistance and potentially leading to higher health care costs, citing both Beyond Pesticides and Food and Water Watch's petition currently pending before the agency. Citing "Triclosan is clearly a threat to our health," Rep. Slaughter, joined by Reps. Raul Grijalva and Betty McCollum, delivered the letter Tuesday, November 16, urging FDA to take immediate steps to stop the unnecessary exposure to this chemical in the U.S. Read letter to FDA and Daily News Blog.
Beyond Pesticides tells FDA that Triclosan is too hazardous to the aquatic environment
(May 24, 2010) In comments to the FDA in response to the agency's request for environmental data regarding tricosan's use in certain over the counter products, Beyond Pesticides and others urged the agency to comply with the National Environmental Protection Act (NEPA), complete environmental assessments for Triclosan and reminded the agency that it must recognize that significant adverse environmental impacts will occur with continued Triclosan use.
Read comments and Daily News Blog


FDA and EPA respond to calls to ban Triclosan (April 8, 2010). Prompted by a 2009 petition by Beyond Pesticides, Food & Water Watch and others outlining the dangers associated with Triclosan and echoed by Rep. Markey's (D-MA) letters of concern, the U.S. Food and Drug Administration (FDA) responded, "existing data raise valid concerns about the [health] effects of repetitive daily human exposure to these antiseptic ingredients," and announced plans to address the use of Triclosan in cosmetics or other products. In its response, EPA maintains that the agency does not currently plan to reevaluate its regulations surrounding the use of Triclosan until 2013.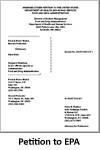 Beyond Pesticides and others petition EPA to ban consumer uses of Triclosan (January 14, 2010). Beyond Pesticides, Food & Water Watch and 80 other organizations petitioned EPA to ban Triclosan for non-medical applications on the basis that those uses violate federal laws regulating pesticide registration, clean and safe drinking water, and endangered species.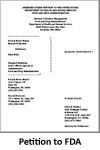 Beyond Pesticides and others petition FDA to ban consumer uses of Triclosan (July 14, 2009) Beyond Pesticides and Food & Water Watch petitioned FDA to ban Triclosan for non-medical applications on the basis that those uses violate federal law.
Groups tell EPA to restrict Triclosan (December 29, 2008). Groups sign statement seeking to restrict Triclosan citing EPA health and environmental standards too weak (read comments to EPA). Tell EPA to ban the non-medical uses of Triclosan.
EPA releases Triclosan RED, allows continued use of toxic chemical (October 29, 2008). The EPA released its final Reregistration Eligibility Decision (RED) document for Triclosan which contained several amendments to the risk assessment as a result of comments submitted by Beyond Pesticides dozens of public health and environmental groups. However, despite many lingering issues related to Triclosan's continued threat to human and environmental health, the agency concluded that Triclosan is eligible for reregistration.

Groups Tell EPA to Stop Uses of Anti-Bacterial Consumer Products (July 7, 2008). In comments to EPA on its new risk assessment and evaluation of the widely used anti-bacterial chemical Triclosan groups point to health and environmental effects and call for end to consumer products. Read the press release and comments to EPA.
FDA asks for data on Triclosan (October, 25, 2005) The Non-Prescription Drug Advisory Committee of the U.S. Food and Drug Administration (FDA) issued a call for further research regarding the risks and benefits of specific consumer antibacterial products.
---
Regulating Antibacterials
In general, EPA regulates all of the pesticidal uses of antibacterials when they are used as a preservative, a fungicide, or a biocide, such as with Microban® in plastics. Articles or products that claim to be effective in controlling microorganisms such as E.coli etc, must be registered as a pesticide, once the product makes a public health claim that goes beyond the use of the pesticide as a preservative to protect the product itself.
According to the EPA, ..
"FIFRA [Federal Insecticide, Fungicide, and Rodenticide Act ] does not allow companies to make public health pesticidal claims for any product distributed or sold unless the product has been approved and registered by EPA or is covered by an exemption from registration. EPA is concerned about these claims because, in addition to being unlawful, they are also potentially harmful to the public (e.g., if people believe that a product has a self-sanitizing quality, they may become lax in their hygiene practices). Practicing standard hygiene practices has been proven to prevent the transmission of harmful microorganisms and, therefore, reduce the possibility of public health risk."
For more information visit EPA's Consumer Products Treated with Pesticides
Did you know…?

The U.S. EPA and the FDA share responsibility for regulating antimicrobial products. If an antimicrobial product is intended for use on the human body, it falls under the jurisdiction of FDA, rather than EPA.
FDA categorizes Triclosan and other antimicrobial products based on use and product claims. If a product makes a health related claim, such as "kills germs" (soap, first aid creams, etc.), FDA registers it as a drug. If it makes no claim at all or if its claims are cosmetic, such as "fights odors" or "improves skin" (deodorant, makeup, shaving cream), it is registered as a cosmetic.
All uses not applied to the human body (bathroom and kitchen cleaners, hospital disinfectants), that make pesticidal claims, such as "kills bacteria and mildew" are regulated by EPA as pesticides.
In spite of shared responsibility, the FDA and the EPA have done little to warn consumers of the possible health and environmental effects of Triclosan.