Triclosan: Sign the Pledge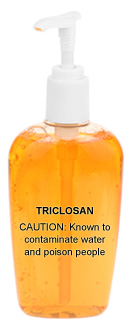 Triclosan has exploded onto the market place in hundreds of consumer products ranging from antibacterial soaps, deodorants, toothpastes, cosmetics, fabrics, toys, and other household and personal care products. Studies are increasingly linking Triclosan to a range of adverse health and environmental effects and the U.S. Food and Drug Administration recognizes the need to reevaluate its safety. At the same time, research concludes that antibacterial soaps show no health benefits over plain soaps.
If you are a manufacturer, retailer or other business:
Sign the company pledge to stop the use and/or sale of Triclosan-containing consumer products (non-prescription) and recognize the harm posed to human health and the environment.
If you are a consumer:
You can help too! Sign the individual pledge to not use products containing Triclosan and support campaign efforts to end the consumer use of this hazardous chemical.
Want to do more?
After you sign the pledge, get your municipality, institution or company to adopt this model resolution to not buy products with Triclosan and supporting broader elimination of non-medical uses.