Christmas Trees and Pesticides
For consumers, the holiday season is full of complicated choices, including the conundrum of how to find the perfect Christmas tree. The most important part of selecting a tree is not its size and shape, but rather finding one that will pose the least risk to the health of your family, pets, and the environment. Thus, the safest holiday choice for you, and yours, is purchasing an organic tree as opposed to one that is artificial or grown using harsh chemical methods. However, the organic tree industry is still fairly novel, therefore following these helpful tips can ensure you purchase a beautiful organic tree and dispose of it in a responsible way to begin the New Year.

The Case for Going Organic
Christmas trees are a big business in the United States. On average, Americans purchase 25 to 30 million Christmas trees annually, with 2020 showing an almost 30 percent increase in sales. However, organic Christmas trees, which follow the same U.S. Department of Agriculture (USDA) organic standards as agricultural crops, make up only 1% of all Christmas tree purchases. Fortunately, public awareness regarding the need for more ecologically friendly, organic products is growing, along with the demand for more organic tree production.
Organic trees are a remarkable improvement from conventionally grown and artificial trees, in several ways. Conventionally grown Christmas trees use toxic pesticides and synthetic fertilizers for years before harvesting. According to the Center for Biological Diversity, eight pesticides make up 85 percent of all uses on Christmas trees: chlorothalonil, atrazine, simazine, glyphosate, hexazinone, carbaryl, chlorpyrifos, and dimethoate. These chemicals have numerous adverse health effects, including cancer, hormonal (endocrine) disruption, neurotoxicity, organ damage, reproductive/birth defects, asthma, and more. Furthermore, North Carolina State University finds a majority of conventional Christmas tree farms in North Carolina use the prevalent weedkiller glyphosate (Roundup), and the insecticide bifenthrin to treat 97.5 and 42.9 percent of all tree acres, respectively. The World Health Organization (WHO) classifies glyphosate as "probably carcinogenic to humans."
Pine needles and bark can harbor pesticide residues that are not only toxic to humans but pets as well. The most widely used pesticide in Christmas tree production, glyphosate, is systemic and plant roots and leaves absorb the chemical into the vascular system. These chemicals can leach out in sap (guttation) and contaminate tree water, thus exposing curious children and pets to toxic chemicals if playing around the tree or, in the case of animals, drinking the water.
Many people have the misconception that artificial trees may be an eco-friendly alternative to conventionally grown trees. However, artificial trees can be equally bad for the environment, pets, and children's health as their conventional chemically grown counterparts. Most artificial Christmas trees are made from polyvinyl chloride (PVC), synthetic plastic. PVC can contain toxic additives, like phthalates (hormone disruptor), cadmium, organotin, and lead to stabilizing certain products, and WHO classifies it as a "known human carcinogen." Because of the flammable nature of artificial trees, many companies apply flame retardants which cause reproductive toxicity, neurological toxicity, endocrine disruption, and cancer. Moreover, artificial Christmas tree labels warn individuals to avoid inhaling or eating any bits of toxic dust that may fall from the branches.
Where to Find Christmas Trees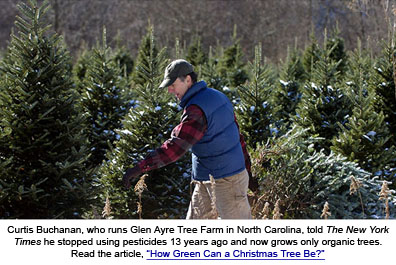 If you'd prefer to go pesticide-free this holiday, purchase your organic tree as soon as possible - because of their limited amount they often sell out quickly. As of 2020, there are only 47 organic Christmas tree farms in the U.S. but, with the growing interest in organic agriculture, it is safe to assume that this number will grow in the future.
Here are some online resources to help you find some organic trees in your area:
If the cost of shipping a tree to your home is prohibitive, or you are unable to locate an organic tree farm using the resources above, the next best option is to try your local Christmas tree farm or a farmers' market. If you purchase trees from tree lots or from large chain stores, it can be hard to determine where your tree is coming from. It is also easier to find "Charlie Brown" or "wild" trees at a tree farm than at big box stores or tree lots. These trees have a different physical appearance than pruned trees, but this more traditional aesthetic is appealing to some consumers.
Going to a local tree farm or farmers' market does not guarantee you will be purchasing a tree that is grown organically or without synthetic pesticides, however, these settings give you the opportunity to speak with the farmer about their growing methods. Often, you can find trees that have not been overly pruned and grown without many chemical inputs. However, be aware that without organic certification, unless you know the farmer, any claims of sustainability hold very little weight since it has not been verified by a third party.
For example, if you live in the Washington, DC area, you can contact local farmer, Mike Tabor, from Licking Creek Bend Farm.
Cutting Down and Bringing a Tree Home
This can be a fun family activity and a nice way to spend a little more time outdoors. It may also be more economical, as tree farms may charge you less if you cut the tree yourself.
However, cutting your own tree does require some advanced planning:
Before cutting down a tree be sure it will fit in the place you plan on putting it in your house. It is important to measure the space where you will set up your tree before cutting or purchasing any tree.
Make sure when you cut the tree that you cut as close to the ground as possible, and that the cut is even along its' base.
Bring friends or family to help you carry the tree and to possibly tie the tree to the top of your car. These tasks, if done alone and in the dark, have the potential to make you lose your holiday cheer.
Be prepared by bringing rope and a hand saw in case the tree farm does not provide you with one. Remember, most tree farms do not allow customers to bring chainsaws or more industrial equipment to remove trees.
Buy a Living Tree!
The best option, and probably the most adventurous, is to buy a tree that still has its roots and can be planted again after the holidays.
To take this project on there are several things to take into account:
Consider the adaptability of the species to your environment. A good option for people in a temperate climate is the Scotch pine as this tree has an excellent survival rate, and is easy to replant.
Living trees can be very heavy and bulky. A six-foot tall balled and bur-lapped tree can weigh as much as 250 pounds.
Avoid having to dig a hole while the ground is frozen. Dig the hole you plan on planting the tree in as soon as you purchase the tree. After you dig the hole fill it with mulch to keep it from freezing over.
Adding a Christmas tree to your yard could become a fun tradition for your family, and if you purchase a small tree you could re-dig and re-plant the tree for several years!
Rent a Tree
Take home a potted Christmas tree, and even decorations, for the holiday season. After Christmas, the company collects the tree, replants it, and lets it grow until next year. You will even get your money back, as long as the tree is looked after properly. Although the options for organic Christmas tree is limited, there are many west coasts and international (i.e., United Kingdom [U.K.]) farms that offer organic tree rentals (while supplies last), including Our City Forest Planting the Future (California, U.S.) and London Christmas Tree Rental - Sustainable Pot Grown Christmas Trees (U.K.).
Caring for Your Tree
Once you have brought the organic tree of your dreams back to your home it is important to give it the proper care and attention so it remains fresh throughout the holiday season:
Make a fresh cut to remove about a 1/2-inch thick disk of wood from the base of the trunk before putting the tree in the stand. Do not cut the trunk at an angle, or into a V-shape, which makes it far more difficult to hold the tree in the stand and also reduces the amount of water available to the tree.
Use a stand that fits your tree. Avoid whittling the sides of the trunk down to fit a stand. The outer layers of wood are the most efficient in taking up water and should not be removed. Also, make sure this stand can hold enough water. Stands should provide 1 quart of water per inch of stem diameter.
When it's time to decorate, string lights that produce low heat, which will reduce the drying of the tree.
For additional tree maintenance tips, the National Christmas Tree Association has helpful information on different tree species.
Alternatives to Artificial Trees
If a real Christmas tree does not suit your needs, consider these alternatives to toxic artificial PVC trees:
CB Safari. This website produces locally sourced and 100% recyclable cardboard Christmas tree, and other holiday products in unique, and aesthetic designs.
Esty. This website is a global marketplace where you can find homemade and organic Christmas items like trees, wreaths, and various gifts.
Do-it-yourself with sustainable materials, like this driftwood Christmas tree, or even an edible Christmas tree using organic ingredients.
Disposing of Your Tree
If planting a tree seems too daunting or is just not feasible, there are ways to dispose of your tree in an eco-friendly way. First and foremost, it is important to make sure your tree avoids a landfill after the festivities. According to Sierra Club, an estimated 10 million Christmas trees unnecessarily end up there each year.
Here are some tips on how to recycle your tree:
Goats love to recycle Christmas trees! They will strip the whole tree by eating all of the needles leaving just the trunk, which can be turned into firewood.
Turn your old Christmas tree into a bird feeder by placing the tree in your garden or backyard and place fresh orange slices or strung popcorn on it. This will attract the birds who can sit in the branches for shelter.
Mulch your tree by removing its branches and putting it through a wood chipper. These chips can be used as mulch in your garden or as part of your compost. If you plan on using this mulch in your garden be sure it is from an organic tree because conventionally grown trees can retain pesticides in its wood.
Create habits for fish by sinking your tree into a nearby pond with deep water. Trees make an excellent refuge and feeding area for fish.
Most communities have a curbside-pick-up option for tree recycling. Check with your city to see if they offer this service, and if they do, make sure to remove all ornaments and decorations before you put your tree out!
If curbside pickup is not available in your community, many local nonprofit organizations, such as the Boy Scouts, will offer to pick up your tree and recycle it for a small donation.

Online resources like Earth911 allow users to search for local recycling centers that accept Christmas trees.
Holidays can be complicated, but one decision that you should feel confident about this year is how you purchased your Christmas tree. By purchasing an organic Christmas tree you are making the responsible choice for the health of your loved ones and the environment. Also, by recycling your tree responsibly after the holiday season you will make sure that your tree can be a gift that keeps on giving to your garden, birds, fish, or goats.
Do not forget to decorate your tree and home using eco-friendly materials and consider choosing organic/eco-friendly gifts for loved ones like gifts from Beyond Pesticides' online shop.
More organic trees, wreaths, and gift ideas
Resources for Organic Trees and Wreaths
Resources for Organic and Fair Trade Gifts