Lawns and Landscapes
A growing body of evidence in scientific literature shows that pesticide exposure can adversely affect neurological, respiratory, immune, and endocrine systems in humans, even at low levels. Children are especially sensitive to pesticide exposure as they take in more pesticides relative to their body weight than adults and have developing organ systems that are more vulnerable and less able to detoxify harmful chemicals. Fortunately, there are proven safe, effective, and affordable ways to maintain attractive lawns and playable fields without the use of toxic pesticides. Use the resources below, information on Hazards and Alternatives, and our Tools for Change page to help get the pesticides out of your community - whether it's at the municipal, park, school or backyard level.
In your backyard
Display a Honey Bee or Ladybug yard sign. Show your neighbors that pesticide-free lawns are important for the health of your family, the environment and the community. At eight inches diameter, these painted metal signs will not rust and will retain their bright colors for years. The sign comes with valuable information on organic lawn and garden management, pollinators, and how to talk to your neighbors about pesticides. You can get a head start by reading the owner's manual here. Signs are available for $13 each ($10 plus shipping for ten or more) at our online store.
Put it on the map. Once you've eliminated synthetic pesticides and fertilizers in your landscape, pledge your organically managed yard or park as a pollinator-friendly Pesticide Free Zone and mark it on the honey bee map!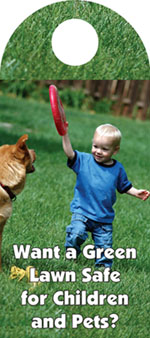 In your community
Educate. It's critically important to make people aware of both the hazards associated with cosmetic lawn care pesticides, and the availability of alternatives practices and products. Of the 30 most commonly used lawn pesticides, 17 are possible and/or known carcinogens, 18 have the potential to disrupt the endocrine (hormonal) system, 19 are linked to reproductive effects and sexual dysfunction, 11 have been linked to birth defects, 14 are neurotoxic, 24 can cause kidney or liver damage, and 25 are sensitizers and/or irritants. Of those same 30 lawn pesticides, 19 are detected in groundwater, 20 have the ability to leach into drinking water sources, 30 are toxic to fish and other aquatic organisms vital to our ecosystem, 29 are toxic to bees, 14 are toxic to mammals, and 22 are toxic to birds. Our Safe Lawn Door Knob Hanger is a tool to help spread the word about the dangers of lawn pesticides and the ever-increasing availability of alternatives. It's an easy, non-confrontational way to approach neighbors that may be using pesticides. You can request a free pack of 25 doorknob hangers by sending an email with your name and address to

[email protected]

. You can order larger quantities from our online store as well.
Enact a Policy. Many communities across the country have taken a stand against the use of toxic pesticides on their lawns and landscapes. In 2013 Takoma Park, MD became the first city to ban pesticides on both private an public property. In June 2014, Ogunquit, ME determined it would be the second. Beyond Pesticides worked with community members in Takoma Park to help pass the Safe Grow Act, and also created educational materials for the city in order to implement the ordinance. You can see Beyond Pesticides' model implementation plan here. For a list of examples of additional cities and communities that have enacted pesticide-free policies or have pesticide-free spaces, see Beyond Pesticides' Tools for Change page. As these localities show, there is a growing demand from local communities to regulate pesticides in a way that prevents the pollution of local waters, and stops putting residents at risk of pesticide-induced diseases.

Take a course. 'Organic Land Care Basic Training for Municipal Officials and Transitioning Landscapers,' is taught by Beyond Pesticides' board member Chip Osborne, a professional horticulturist with over 30 years' experience, and an expert on building and transitioning turf to organic care.
We want to work with your community! For assistance in proposing a policy in your community, contact Beyond Pesticides at [email protected] or 202-543-5450.
Keep this information with you through the bi-fold brochure, Pesticide Free Zones in Your Community,
Organic Land Management: Practical Tools and Techniques
(2014 National Pesticide Forum)
With a "how-to focus," this workshop provides people with practical advice on adopting organic practices at home and in local park and playing field management. This presentation was given at "Advancing Sustainable Communities: People, pollinators and practices, Beyond Pesticides' 32nd National Pesticide Forum, April 11-12, 2014, Portland, OR.
Healthy Lawns Clean Water Forum
Below, you can find clips from the Healthy Lawns Clean Water Forum, which took place in Exeter, NH on May 4, 2016. The forum addressed questions such as: "Are fertilizers, pesticides, insecticides, herbicides, and neonicotinoids good for you? Your food? Or clean water?" Featured speakers included Jay Feldman, the executive director of Beyond Pesticides, Chip Osborne, a nationally renowned organic turfgrass expert, and John Bochert of Eldredge Lumber and Hardware in Maine.
Jay Feldman, executive director of Beyond Pesticides
Chip Osborne, Osborne Organics

John Bochert, Eldredge Lumber and Hardware

You can view the full forum video by clicking here.