Have You Ever Seen Someone Near a Utility Pole? EPA Hasn't!
Help EPA See the Reality of Wood Preservative Exposure in Your Community
Send EPA a Picture and Join the Campaign to Ban the Deadly Wood Preservatives
[Pentachlorophenol (PCP), Dioxin, Furans, Hexachlorobenzene (HCB), Arsenic and Creosote]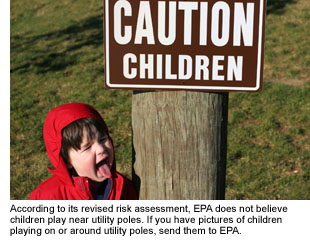 Children playing around utility poles treated with chemicals like pentachlorophenol with contaminants including dioxin, furans and hexachlorobenzene. People, pets and wildlife exposed daily. The pictures speak for themselves and they reflect the reality that people know.
Yet, in documents EPA released on April 17, 2008 the agency says people don't come into contact with utility poles or these chemicals, known by EPA to cause cancer, kidney and liver disease and reproductive effects.
Why?
Because the hazard to human health, if recognized by EPA, would require that it put a risk number in its risk assessment (for which the agency is seeking public comments by June 16, 2008) that would force the banning of pentachlorophenol (PCP), its contaminants, and other deadly wood preservatives.
Like so many times in its risk assessments, EPA just waives away reality. Here's what EPA has to say about public exposure to hazardous utility poles: "The opportunity for residential consumer contact is limited since PCP-treated wood is not sold to the general public. Rather it is predominantly marketed for commercial installations as utility poles. Where utility poles are installed on home/school or other residential sites, child contact via the dermal or oral routes is not anticipated since play activities with or around these pole structures would not normally occur and any incidental exposure would therefore be negligible."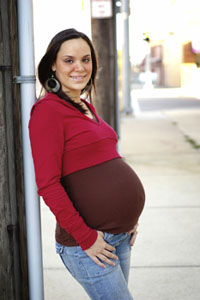 In response to comments Beyond Pesticides and others submitted in January 2005, pointing out that utility poles line the streets and backyards and are often next to bus stops and school yards, while millions of poles are removed from service and can end up in gardens or places around the home, EPA only had this to say: "PCP is not registered for residential uses."
Since EPA does not accept the reality expressed by the written word, we are calling on you to take pictures of utility poles (telephone poles) in your community when you see people coming in contact with them. Take pictures of children playing around them (it could be used as base in a game of tag), people posting signs on them, or leaning on them at bus stops. Then send the picture to EPA's docket (with a copy to Beyond Pesticides) or email Beyond Pesticides directly ([email protected]), which you can send either electronically (go to the bottom of the document, hit the browse button and upload your picture) or send by mail by following the directions in the Take Action section below.
The good news is that we do not need these chemicals. There are alternative materials that are better for health and the environment.
For more information on EPA's Revised Risk Assessment, see Beyond Pesticides Daily News Blog (4/18/08).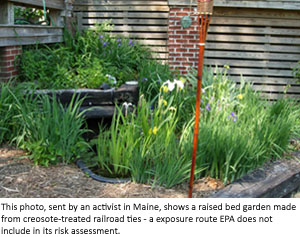 TAKE ACTION: Let the EPA know that the wood preservatives pentachlorophenol, chromated copper arsenate (CCA) and creosote pose unnecessary risks to worker health and to your community. Submit your photos and/or comments no later than June 16, 2008. You can submit them online at www.regulations.gov, using the following docket numbers:
CCA: Docket ID- EPA-HQ-OPP-2003-0250
Creosote: Docket ID - EPA-HQ-OPP-2008-0248
PCP: Docket ID - EPA-HQ-OPP-2004-0402
If submitting by mail, send to Office of Pesticide Programs (OPP) Regulatory Public Docket (7502P), Environmental Protection Agency, 1200 Pennsylvania Ave., NW., Washington, DC 20460-0001.