National Organic Standards Board
Keeping Organic Strong: Changes in organic regulations and farming practices
Results from the Fall 2011 meeting of the National Organic Standards Board

November 29 - December 2, 2011 • Savannah, GA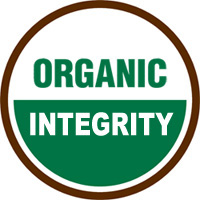 Last fall, the U.S. Department of Agriculture's National Organic Standards Board (NOSB) met to decide on a range of issues concerning allowable materials and practices in certified organic farming. The recommenations adopted by the board will be sent on to USDA's National Organic Program (NOP) for incorporation into federal regulations. A webcast of the entire four day meeting can be viewed here. Additionally, NOP has provided a short summary of the meeting.
On this page, you will find summaries of the significant actions taken by the board at the meeting along with supporting documentation. Each issue is discussed separately, incorporating Beyond Pesticides' positions on what the outcomes signify for the future of the organic movement.
In addition to considering changes in allowable materials and practices, the board also elected new officers. Barry Flam, who holds an Environmentalist position on the Board, was elected NOSB Chairman, Mac Stone as Vice-Chairman and Wendy Fulwider as Secretary. The USDA also announced the five incoming NOSB members whose appointments began in January 2012. They are Harold V. Austin, IV, Director of Orchard Administration for Zirkle Fruit Company (Handler); Carmela Beck, National Organic Program Supervisor and Organic Certification Grower Liaison for Driscoll's, an organic berry producer (Producer); Tracy Favre, Chief Operating Officer for Holistic Management International (Environmentalist); Jean Richardson, Ph.D., Professor Emerita of Natural Resources, Environmental Studies and Geography at the University of Vermont (Consumer / Public Interest); and Andrea (Zea) Sonnabend, Policy Specialist and Organic Inspector Specialist for California Certified Organic Farmers (Scientist).
The next meeting of the NOSB will be held in Albuquerque, NM between May 21 and 24, 2012. More information about this meeting will be posted as it becomes available. To find information about previous NOSB meetings go to our NOSB Archives page.
Issues Discussed by the Board
These are the materials and substances which came before the board for consideration at this meeting. For the materials on which a vote was taken, the substance's current regulatory status is noted as well as what the outcome of the board's final vote means for this status. You can also access the original recommendations proposed by the committees going into the meeting as well as Beyond Pesticides' comments submitted to the board concerning each issue, followed by the final recommendation passed by the full board.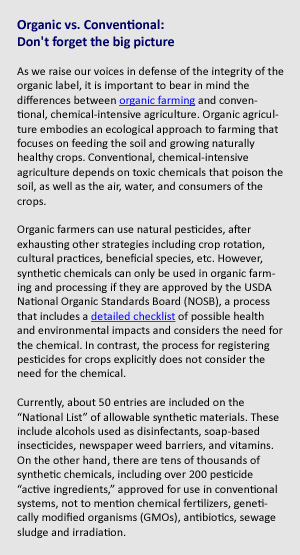 Current NOP status: Specifically prohibited since 2007.
NOSB Savannah recommendation: Not allowed for use in organic crop production.
This material was petitioned for use in exploding underground devises used to kill burrowing pests including moles, gophers and ground squirrels. The propane is mixed with oxygen and is exploded underground, causing a rapid expansion of gases that leads to concussive force that kills burrowing pest animals, with accompanying suffocation from consuming all the oxygen in the tunnel. The Crops Committee voted against this allowance in advance of the meeting. Committee members voting against the petition cited a range of effective alternative practices to using odorized propane, including habitat modification, traps, introduction of predators (such as dogs), rodenticide baits, and many others, that do not adversely impact biodiversity. The Committee concluded that alternatives, in a more effective and less costly manner, achieve with management what propane would achieve with off-farm synthetic inputs. The full NOSB concurred with the Crops Committee recommendation not to add propane (odorized) to the National List for use in organic crop production.
The Policy Development Committee (PDC) brought a recommendation to the NOSB designed to enhance the transparency of the Board's committee meetings and decision making processes. Specifically, the PDC recommended that full, accurate minutes be taken on Committee meetings and conference calls that would include attribution of the positions taken by specific members. The NOSB previously did not make Committee minutes publicly available, but the NOP's revised interpretation of the federal requirements for advisory boards now requires their disclosure. The PDC's recommendation took a strong position on disclosure by requiring that all minutes, reports, transcripts, and other documents related to board decisions be made freely accessible to the public in hard copy and electronically through the World Wide Web. This comprehensive approach to disclosing NOSB Committee deliberations received wide support in the public comments leading up to the Savannah meeting although some commenters felt that attributing participants would dampen the free exchange of ideas. Ultimately, the NOSB's recommendation removed the attribution of individual comments from Committee meeting minutes but otherwise supported prompt disclosure and dissemination of the deliberations.
Current NOP status:

As an Algicide: for use in aquatic rice systems, limited to one application per field during any 24-month period. Application rate may increase baseline soil test values for copper.
As an Insecticide: for use as tadpole shrimp control in aquatic rice production, limited to one application per field during any 24-month period. Application rate may increase baseline soil test values for copper

NOSB Savannah recommendation: Retain both allowances with use restrictions.
In advance of the Savannah meeting, the Crop Committee recommended placing additional protections on the use of copper sulfate in rice production. The Committee raised concerns that chronic dependence on this material results in residual copper levels that threaten aquatic organisms including amphibians both in the rice fields and downstream after irrigation water is released. The Committee proposed including a preference for a well-established cultural practice – drill seeding of rice – in lieu of routine dependence of synthetic copper sulfate when weather conditions permitted. Some rice producers questioned the practicality of this additional protection. In Savannah, the NOSB voted to retain the existing allowances and use restrictions copper sulfate in organic rice production was retained on the national list without the preference for drill seeding when weather conditions permitted.
Animal Welfare and Stocking Rates

Animal Handling and Transport to Slaughter recommendation
The NOSB unanimously adopted the both the Animal Welfare and Stocking Rates and Animal Handling and Transport to Slaughter recommendations. While the Livestock Committee will continue to work on guidance documents related to these recommendations, the focus for upgrading organic livestock production standards now shifts to the NOP which must draw upon the NOSB's work in implementing new rulemaking procedures. Read more about the specifics of the new organic livestock regulations and their implications.
The Crops Committee presented a discussion document prepared by the joint NOSB-NOP-EPA Working Group on Inert Ingredients to address the issue of ingredients in formulated pesticide products other than the active ingredient. Specifically, the Working Group was looking for input on the current allowance of "List 3 Inerts" in passive pheromone dispensers used in organic production. This allowance is scheduled to expire in 2013 and the Working Group is formulating a recommendation for the Spring 2012 NOSB meeting where the board will decide on whether to continue the listing.
As Beyond Pesticides has long pointed out, inert ingredients used in pesticide formulations are not at all what their name suggests – these materials can be highly toxic and persistent. EPA is moving to require greater transparency with inert ingredients including the possibility of requiring their identification on the labels of products that contain them. The NOP should also be moving towards greater transparency with inert ingredients by supporting the NOSB in the review and approval process. There is currently an allowance in organic agriculture for inert ingredients in pesticide products that satisfy EPA's 25(b) criteria. EPA has classified these materials as "Inerts of Minimal Concern" and requires their identification on the product label. All other inert ingredients must be reviewed and approved by the NOSB through the technical review process. This is the required procedure before any synthetic substance can be allowed in organic production and handling.
The full discussion document can be read at the link above. Additionally, visuals from a presentation the Working Group made at the meeting can be accessed here.
Current NOP status: Prohibited
NOSB Savannah recommendation: Prohibited in organic crop production.
This material was petitioned for use in spray applications to control weeds prior to planting food crops, at the base of grape vines and fruit trees and on the soil surface between crop rows or at the edges of plastic film mulch. The Crops Committed recommended against allowing this material due to concerns about its toxicity to aquatic invertebrates and its overall compatibility with organic production. Among other criteria, only synthetic materials for which no wholly natural alternative exists may be allowed in organic production, the Committee identified several natural alternatives ammonium nonanoate. The NOSB concurred with the Committee's position and rejected the proposal to allow this material in organic crop production.
Current NOP status: Allowed for use as an irrigation system cleaner only.
NOSB Savannah recommendation: Continue allowance.
Ozone was reapproved for use in organic systems as a disinfectant in irrigation systems. When it is produced on site and used only in the irrigation system, ozone is not considered harmful to the environment. If released or injected into the soil, ozone could cause significant adverse effects on a range of wildlife as well as human health as it oxidizes. However, the approved use would prohibit this from happening, and so is largely not a concern. Additionally, ozone is an important alternative to more ecologically damaging chlorine compounds that can also be used to clean irrigation systems.
Current NOP status:

As a disinfectant: for use in disinfecting equipment, seed, and asexually propagated planting material.
As disease control: to control fire blight bacteria.

NOSB Savannah recommendation: Continue both allowances.
Peracetic acid is currently approved for use in organic systems in two categories: as an equipment disinfectant as well as for control of fireblight bacteria. As an equipment cleaner, the substance is likely to pose few risks to human health and the environment due to the use being more strictly defined and the limited amounts that are necessary. This use is consistent with the principles of an organic system and falls under a category of specific allowed substances outlined in the Organic Foods Production Act.
Beyond Pesticides opposed the continued approval of peracetic acid to control fireblight bacteria due to our conclusion that this use is inconsistent with organic principles and would likely present significant risks to human health and the environment, particularly soil organisms, which are highly important to organic production. However, the full board felt that the substance is an important tool for growers in their fight against the disease caused by the fireblight bacteria, and so voted to continue allowing its use for disease control in addition to reapproving it as a disinfectant.
Current NOP status: Prohibited except as a foliar spray to treat a physiological disorder associated with calcium uptake.
NOSB Savannah recommendation: Continue prohibition with exception for disorder treatment.
The board voted to continue listing calcium chloride as a prohibited natural substance with the exception that it can be used as a foliar spray to treat a physiological disorder associated with calcium uptake. This annotation allows farmers to use calcium chloride to meet a valid production challenge in a responsible manner. Removing the annotation would have contravened the well-established principle that mined minerals of high solubility are not consistent with a system of organic production. Natural materials including limestone, gypsum, bone meal, calcium chelated with humic acids, and calcium chelated with amino acids are preferable choices for soil incorporation.
Current NOP status: Prohibited
NOSB Savannah recommendation: Prohibited in organic crop production
The board voted to reject a petition to allow use of the growth regulator Indole-3-butyric acid (IBA) in organic production. The use for which this material was petitioned – as a synthetic plant growth regulator – is not supported by OFPA. Additionally, there is insufficient toxicological and ecological data (most of these requirements were waived by EPA) on which the base the synthetic materials evaluation required by OFPA. This material has not historically been used in organic agriculture and the information available does not support approving its use at this time.
Current NOP status: For use only in wine labeled "made with organic grapes," provided that total sulfite concentration does not exceed 100 parts per million (ppm).
NOSB Savannah recommendation: Retain allowance with use restriction.
The prohibition on synthetic food additives including sulfur dioxide was a driving force in the emergence of the organic food movement. The Organic Foods Production Act of 1990 which authorized USDA to establish organic standards specifically prohibited adding sulfites and other synthetic preservatives to organically produced products. However, as the standards were being implemented, a limited allowance for adding sulfur dioxide to certain wines was incorporated without public comment. Under the current standard, sulfur dioxide can only be added to wine labeled 'made with organic grapes,' provided that the total concentration of sulfite does not exceed 100 ppm. Only wines to which no sulfites have been added can be labeled 'organic' and display the USDA organic seal. Arguing that this restriction holds back growth in the marketplace, a number of wineries petitioned the USDA with a request that the annotation be amended to allow sulfur dioxide use and resultant concentrations of sulfites not exceeding 100 ppm in wines labeled as 'organic' and displaying the USDA organic seal. Those opposing the petition commented that the addition of sulfites to wine has not been proven to be essential and argued against adding sulfites, which are a recognized allergen, to 'organic' wine. The NOSB rejected the petition, thereby retaining the distinction between wines that are 'organic' and "made with organic grapes.'
Current NOP Status: Chlorine materials (calcium hypochlorite, chlorine dioxide, sodium hypochlorite), provided that residual chlorine levels in the water shall not exceed the maximum residual disinfectant limit under the Safe Drinking Water Act.
NOSB Savannah Recommendation: Chlorine materials (calcium hypochlorite, chlorine dioxide, and sodium hypochlorite) for disinfecting and sanitizing food contact surfaces, equipment and facilities may be used up to maximum labeled rates. Chlorine materials in water used in direct crop or food contact is permitted at levels approved by the FDA or EPA for such purpose, provided the use is followed by a rinse with potable water at or below the maximum residual disinfectant limit for the chlorine material under the Safe Drinking Water Act or followed by other effective intervention or testing steps that would reduce and verify the residual chlorine levels to be 4mg/L or less on the product. Chlorine in water used as an ingredient in organic food handling must not exceed the maximum residual disinfectant limit for the chlorine material under the Safe Drinking Water Act.
Due to ambiguity in earlier NOSB recommendations, the allowance for using chlorine as a sanitizing agent in organic production and handling has been a source of confusion for many years. Prior to the Savannah meeting, the Handling Committee agreed upon a recommendation that would bring the allowance for chlorine into compliance with the existing NOP guidance policy. This guidance permits use of chlorine up to maximum labeled rates for sanitation of equipment and labeled uses in direct contact with products like fruit or vegetables, as long as there is a potable water rinse with no higher than drinking water levels after use. Additionally, it restricts chlorine in water used as an ingredient must to the level permitted in drinking water. Beyond Pesticides argued that this recommendation did not adequately address the significant human health and environmental risks known to result from chlorine's manufacture and release into the environment. Furthermore, adoption of this recommendation means that there will be no differentiation between the allowance for chlorine use in organic and nonorganic products. Despite Jay Feldman's dissenting vote, the NOSB approved the Handling Committee's recommendation.
Current NOP Status: Technically prohibited, but allowed in certain products by administrative order.
NOSB Savannah Recommendation: Allow the following:

Arachidonic acid fungal oil (ARA), not hexane extracted; other ingredients that are agricultural must be organic.
Docosahxaenoic acid (DHA) from Algal Oil, not hexane extracted; other ingredients that are agricultural must be organic
Arachidonic acid (ARA) and Docosahexaenoic acid (DHA) are naturally occurring polyunsaturated fatty acids found in breast milk and certain livestock products and they are recognized as highly beneficial nutrients. Processed versions of these nutrients have become increasingly popular as food supplements. Supplemental DHA is available in variety of consumer products, including processed snacks, dairy beverages and infant formula, while ARA use is limited to use in infant formula. Despite the NOSB having never reviewed ARA and DHA for use as food supplements, the NOP in 2007 authorized adding the materials to organic foods. This decision was based on an incorrect interpretation of an earlier NOSB recommendation, which was subsequently incorporated into the organic standards, to allow supplementation of organic foods with synthetic forms of vitamins and minerals classified as essential by the Food and Drug Administration (FDA). In 2010, USDA acknowledged that its policy of allowing ARA and DHA was invalid but, citing those materials' prevalence in the marketplace, declared that existing products containing them could retain certification while the NOSB worked through a more comprehensive policy on nutritional supplementation.
Martek Biosciences Corporation developed and patented a number of procedures through which ARA and DHA are extracted from species of algae and fungus, respectively. These raw materials are then blended with agricultural and non-agricultural ingredients to create the formulated products which have captured the lion's share of the organic marketplace for supplemental ARA and DHA. To create a statutory basis for perpetuating their use in organic food, Martek petitioned the USDA for a specific allowance for two of its products, Arachidonic acid fungal oil and DHA from Algal Oil. Both materials received Technical Evaluation Reports (TEP) and the results were forwarded to the NOSB's Handling Committee for initial evaluation.
Agreeing with the TEP's determination that the ARA and DHA products were in fact natural materials, the Committee voted unanimously with one absence to recommend adding both the National List as allowed food supplements. However, there was considerable resistance to this recommendation from NOSB members in Savannah. These NOSB members expressed general reservations about the essentiality of nutritional supplementation in organic foods and very specific concerns about the Martek products, including the use of hexane as a solvent in their extraction.
In Savannah, the necessary two-thirds majority of the NOSB ultimately approved an amended allowance for ARA and DHA products that don't use of hexane (other synthetic solvents are allowed, however) and incorporate organic forms of all other agricultural ingredients. This allowance appeared to satisfy supporters of allowing ARA and DHA who indicated that compliant products currently exist or could be formulated. More recently, the NOP issued a proposed rule sanctioning the existing allowance for ARA and DHA in certified organic products pending implementation of the NOSB's recommendation.
The NOSB adopted two recommendations that clarify the structure of its leadership team and provide for a clearer transition of authority when new members are appointed. The leadership team is defined as a group consisting of the Chair, Vice Chair and Secretary from the NOSB and the Board's Executive Director from the NOP. This group convenes weekly to coordinate the NOSB's logistics including scheduling and budget and does not address policy decisions. The Leadership Transition recommendation establishes a workable timeline for appointing Committee Chairs and for delegating authority from the existing Chair to his or her successor. Both recommendations will be incorporated directly into the NOSB Policy and Procedures Manual since they do not require rulemaking to be implemented.
Material review organizations evaluate inputs such as pesticides, fertilizers, feed and food ingredients and sanitation products to determine whether their use is allowed, restricted or prohibited under the organic standards. This responsibility is an arduous task that requires extensive digging into product formulations as well as determining the origin and characteristics (non-gmo, for example) of each ingredient. Material review has proven to be a challenging task, especially for the smaller certifying agents with limited resources for such in-depth investigations. The uncertainty surrounding whether or not a specific material is allowed is a chronic problem for producers and handlers who find their hands tied when their certifying agent struggles to determine whether or not a material or product is allowed. Retroactive determination that a product which was used was not in fact allowable has resulted in painful partial or whole decertification of affected operations.
To provide greater clarity and consistency with material review, the NOSB adopted a recommendation in Savannah calling upon the NOP to actively regulate material review organizations. The NOSB recommended that the NOP provide accreditation (the process through which certifying agents are deemed qualified to operate) for the specific purpose of material review. The recommendation called for material review organizations to use the NOP's material classification guidance currently under development when making synthetic versus non-synthetic and permitted generic substance determinations. It also requires material review organizations to be accredited to ISO 65 standards which require the development of detailed review protocols and policies and to adopt the appeals process utilized by certifying agents.
The USDA under the Obama Administration has consistently emphasized that organic certification has entered the Age of Enforcement and has dedicated substantial resources to improving the work conducted by certifying agents. In part, these efforts involve providing certifying agents with clearer protocols for conducting the extremely important on-site inspections that are among their responsibilities. Towards this end, the NOSB recommended in Savannah that the NOP develop guidance on baseline qualification criteria for organic inspectors to cover specific metrics in three areas. These criteria are: baseline pre-requisite expertise for initial "organic inspector" status; continuing education requirements for inspectors; and accreditation criteria for certifying agents to ensure adequate monitoring and oversight. The NOSB also recommended that the NOP develop guidance for certifying agents on conducting unannounced inspections. This guidance is to include required unannounced inspections for at least five percent of their certified operations per year that may be random, risk-based, or the result of a complaint or investigation.
About the NOSB
USDA's Agricultural Marketing Service oversees the National Organic Program (NOP) and the NOSB. The NOSB includes four producers, two handlers, one retailer, three environmentalists, three consumers, one scientist and one certifying agent. The board is authorized by the Organic Foods Production Act and makes recommendations to the Secretary of Agriculture regarding the National List of Allowed and Prohibited Substances for organic operations. The NOSB also may provide advice on other aspects of the organic program. For more information on the history of organic agriculture and why it is the best choice for your health and the environment, please see Beyond Pesticides' Organic Food Program Page.