25
Nov
(Beyond Pesticides, November 25, 2014) Please put charitable giving first this holiday season, and as you consider your donations, please take a close look at Beyond Pesticides' program to protect health and the environment. Your support enables us to assist local action informed by the science we provide on pesticide hazards and safe and sustainable alternatives.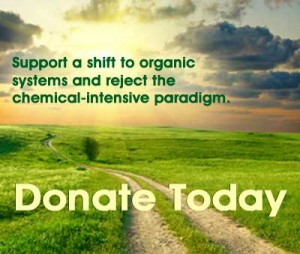 When you contribute to Beyond Pesticides, you support our core values –that we have a right to:
(i) clean air, water, and land in our communities,
(ii) toxic-free landscapes that are achieved cost-effectively without hazardous synthetic materials,
(iii) safe places with reduced chemical threats where children grow up, and;
(iv) a healthy ecology where pollinators –bees, butterflies, and birds and the natural world– can flourish.
With your support, Beyond Pesticides is making tremendous progress advancing toxic-free pesticide policies in local communities and promoting effective organic alternatives in the face of strong chemical industry opposition.
>>Please help us pass toxic-free pesticide policies in communities throughout the country by donating today.
We had an important victory in the small coastal town of Ogunquit, Maine this past election day, where 60% of voters passed an initiative to ban turf and landscape pesticides on all town lands, public and private. Your support of Beyond Pesticides helped to make this happen! Because, when given an opportunity, local communities choose to protect themselves from the unnecessary use of toxic pesticides by adopting nontoxic practices.
>>Help us assist other communities in their efforts to adopt nontoxic practices!
We are bringing to communities an understanding of inadequate protections at the federal level. The allowance of toxic pesticides by EPA begins with decisions that are heavily lobbied by the chemical industry. The recent allowance of 2,4-D, contaminated with dioxin, for weeds on newly deregulated genetically engineered corn and soybeans speaks volumes to the power of the industry, weak federal laws, and a complicit Congress.
>>With your contribution, we will continue to fight bad EPA regulatory decisions.
Critical to long-term sustainability, Beyond Pesticides is transforming land and building management. We began this work 33 years ago, calling for research into sustainable practices, and the adoption of organic standards with certification and enforcement mechanisms, so that we could point people and communities to credible, verifiable solutions to pesticide pollution. In this regard, we have helped build an organic standards and certification system that addresses the limitations of EPA's pesticide registration program.
>>Your support enables Beyond Pesticides to work to keep the USDA and NOSB process accountable to consumers and family farmers who believe deeply in a safe, sustainable and organic alternative to practices and products that poison and contaminate.
Thank you for giving first this holiday season!
To read Beyond Pesticides full letter to supporters, written by executive director Jay Feldman, see here, and see Ogunquit Leads the Way with Ordinance Banning Pesticides.
All unattributed positions and opinions in this piece are those of Beyond Pesticides.