02
Jul
(Beyond Pesticides, July 2, 2015) A report released this week by Friends of the Earth exposes the exorbitant amount of money food and agrochemical companies have spent over the past several years to defend industrial agriculture, sway public opinion, and influence elected officials. The report shines light on the both the tactics these companies use and the lengths to which they are willing to go to defuse public concern about the risks of chemical-intensive industrial agriculture and to undermine the reputation of organic food. Hundreds of millions of dollars were spent from 2009-2013 on communication efforts to spin the media and drive consumer behavior, often using front groups that appear in the media to be independent sources, but are in fact funded by the interests of the industrial food sector. This report is an important link in shaping public conversation about food and influencing consumers to think twice about where the information they're being fed is coming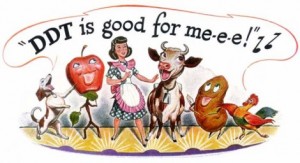 from, and who might be paying for it.
When explaining the motivation behind writing the report, Anna Lappé, one of the co-authors and a national bestselling author and founder of the Real Food Media Project, states that, "The food industry is using a host of covert communication tactics to shape public opinion without most people realizing the stories are being shaped behind-the-scenes to promote corporate interests. Our goal with this report is to inspire journalists, opinion leaders, policy makers and the public to bring increased scrutiny to the food industry's messages and messengers." Ms. Lappé also notes that making sure that people know their food is safe, and encouraging them to fight for transparency in how their food was grown and raised is a hopeful outcome of publishing this report.
Key findings of the report include:
Big food and chemical companies spent hundreds of millions of dollars from 2009 to 2013 to manipulate the public conversation about our food.
14 front groups — often appearing in the media as independent sources — spent $125 million during that time frame to push coordinated messages that serve industrial agriculture interests. These include groups like the U.S. Farmers and Rancher's Alliance, whose partners include Monsanto, DuPont, Dow and Syngenta.
Covert PR tactics these groups are using include efforts to disparage "organic moms," the growth of "native advertising" disguised to look like real news, stealth engagement on social media and the use of third-party allies to foster an echo chamber for industry talking points.
Coordinated messages pushed by a range of seemingly independent spokespeople are making their way from PR firms to the pages of leading media outlets. The report details and debunks five of these key messages, including "organic food isn't worth the money" and "GMOs are needed to feed the world.
The report also highlights industry attempts to divert consumers from a growing body of science that has linked food additives and chemicals used in food production to problems ranging from cancer to bee declines. A previous report by Friends of the Earth published in April of 2014 highlights the ways pesticide companies are spinning the bee crisis to protect profits, a practice the new report indicates has continued.
The motivation for this systematic attack on smaller food systems, including organic, comes from societal trends that are moving away from big food industry products. Last year, major packaged food companies lost $4 billion dollars alone, as shoppers moved towards purchasing fresh and organic alternatives, further driving the need for big industry to skew the dialogue in their favor. Rather than responding to changing market demands by shifting the way they do business, these companies are trying to preserve market share and win key policy battles by using "tobacco-style" PR tactics, attempting to undermine the integrity of organics in the process. These tactics try to spread the messages such as "buying organic is not worth the money" or "GMOs are needed to feed the world." These campaigns purposely disregard conflicting information and fail to take into account other factors that contribute to the costs of organics. For more on these discrepancies, see Beyond Pesticides' article "The Real Story on the Affordability of Organic Food" to learn about the true cost of conventional food and learn how to get access to affordable organic food.
Attacks on organic are not waged solely by industry, but by the government as well. In June of last year, 20 organic farm and consumer groups filed a petition with U.S. Secretary of Agriculture Tom Vilsack to protect the authority and permanence of the National Organic Standards Board (NOSB), a government committee created to safeguard the integrity of the organic food label, against changes that undermine the duties of the board and its role in protecting organic food production. Then this past April, environmental groups had to band together once more by filing a lawsuit to challenge the U.S. Department of Agriculture (USDA) National Organic Program's (NOP) failure to follow the law in making a substantial rule change to the USDA organic standard.
"To have an honest conversation about the future of our food system, it's crucial for consumers and news producers to understand the alarming extent of industry influence on media coverage and to do what we can to make sure we're hearing the real story, not spin," said Stacy Malkan, co-author of the report and co-director of consumer advocacy group U.S. Right to Know. While there is a long way to go in ensuring consumers know exactly who is controlling the information they receive when it comes to food, this report, which includes a detailed summary of industry trade and front groups' activities, spending, and board members, is a good first step in creating some transparency around the issue and we encourage citizens to read it and other information on the subject.
For more on organic standards and how you can play a part in maintaining the integrity of organic, visit the Keeping Organic Strong webpage.
Source: "Spinning Food: How Food Industry Front Groups and Covert Communications are Shaping the Story of Food"
All unattributed positions and opinions in this piece are those of Beyond Pesticides.