29
Aug
(Beyond Pesticides, August 29, 2014) Environmentalists issued a legal petition to the U.S. Fish and Wildlife Service on Tuesday calling for the protection of the monarch butterfly as a threatened species under the Endangered Species Act (ESA). Monarch butterflies, a striking and familiar symbol of beauty and nature in the U.S., have had their population decline by a staggering 90 percent in the past two decades alone, most likely due to a significant loss of habitat of more than 165 million acres – an area about the size of Texas -as well as nearly a third of their summer breeding grounds.
Part o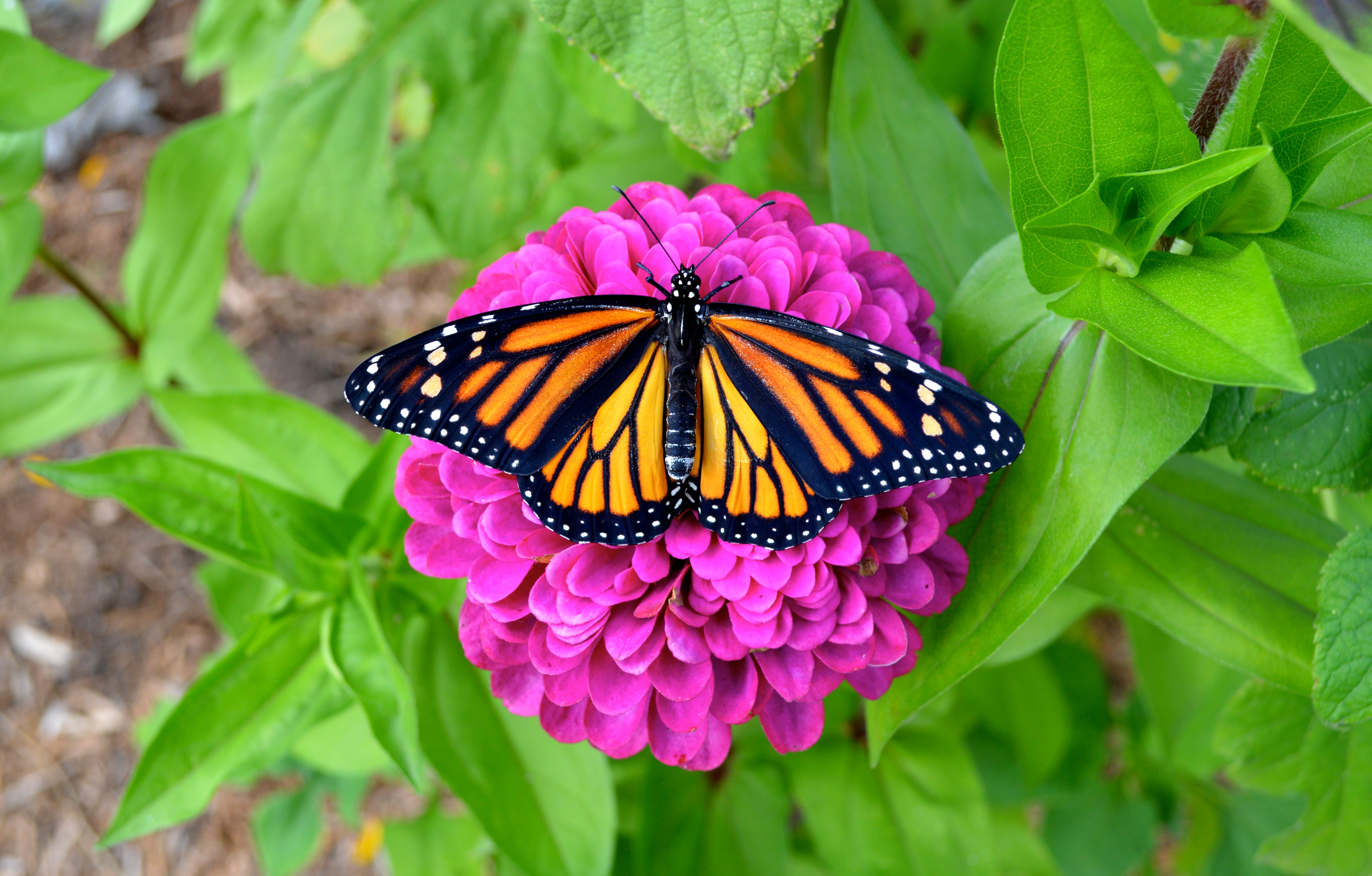 f the decline of monarch butterflies stems from the loss of milkweed, a native plant where the butterflies lay their eggs and is their main food source. Although little use to farmers, milkweed is an important plant to butterflies, wasps, and bees. A recent study attributed the disappearance of milkweed plants primarily to the use of genetically-engineered (GE) corn and soybean crops. The widespread adoption of GE agriculture and the ever-growing use of herbicides are contributing extensively to the loss of milkweed areas. Scientists also point to the prolific use of herbicides in the Midwest eliminating these plants, and found that 70% of the losses of milkweed between 1995 and 2013 were located in agricultural areas. This study adds weight to previous reports linking GE crops, as well as climate change, to the decline of butterfly populations.
"Monarchs are in a deadly free fall and the threats they face are now so large in scale that Endangered Species Act protection is needed sooner rather than later, while there is still time to reverse the severe decline in the heart of their range," said Lincoln Brower, Ph.D., in a Tuesday press release. Dr. Brower is a preeminent monarch researcher and conservationist, who has been studying the species since 1954.
The ESA allows species to be listed as "threatened" when they are at risk of becoming endangered in a significant portion of their range. This would allow for the protection of the species but also still allow the continuation of activities that promote their conservation, such as scientific research and monitoring, citizen monitoring and tagging, and non-commercial classroom and household rearing of monarchs for educational purposes.
The petition was issued to the Secretary of the Interior through the Fish and Wildlife Service (FWS) by the Center for Biological Diversity and the Center for Food Safety as co-lead petitioners. They are joined by the Xerces Society and Dr. Brower.
Monarch butterflies make their way from the U.S. and Canada, usually arriving in Mexico around the beginning of November, clustering by the thousands in the boughs of fir trees. Although the same trip occurs every year, no individual butterfly makes it twice, as the butterfly's life span is too short. How the migration route lives on in the butterflies' collective memory is an enduring scientific mystery. Researchers note that to compensate for the continued loss of habitat, refuges of milkweed must be set up to provide a source of food for butterflies.
The decline of monarch habitats is not the only environmental effect linked to the pervasive use of highly toxic herbicides and insecticides. For example, the emergence and spread of glyphosate-resistant "super weeds" is strongly correlated with the upward trajectory of herbicide use, according to a study conducted by Charles Benbrook, Ph.D. Glyphosate, the active ingredient in Monsanto's Roundup formulation, is one of the most widely used conventional pesticide active ingredients in the U.S. And, similar to monarch butterflies, honey bees and other wild bees have also been experiencing a drastic decline in numbers that has been linked to the prevalent use of neonicotinoids, which the Tuesday petition also touches on.
One way to combat these problems is to initiate organic farming practices. Beyond Pesticides supports organic agriculture as effecting good land stewardship and a reduction in hazardous chemical exposures for workers on the farm. The pesticide reform movement, citing pesticide problems associated with chemical agriculture, from groundwater contamination and runoff to drift, views organic as the solution to a serious public health and environmental threat. To attract beneficial insects like monarchs and protect their habitats in your own backyard, there are several steps you can take. Like any other living organisms, pollinators need food, water, and shelter in order to thrive. For more information, see Managing Landscapes with Pollinators in Mind. You can also visit the BEE Protective Habitat Guide and Do-It-Yourself Biodiversity for more ways in which you can protect our pollinator friends.
Pollinators are a vital part of our environment and a barometer for healthy ecosystems. Let's all do our part to BEE Protective of these critical species. Please visit Beyond Pesticides' BEE Protective webpage to learn more about our efforts to save pollinators and what you can do to help.
Source: Newsweek
Photo Source: Diane St John (Durham CT)
All unattributed positions and opinions in this piece are those of Beyond Pesticides.