22
Oct
(Beyond Pesticides, October 22, 2014) The U.S. Environmental Protection Agency (EPA) has announced a new voluntary Drift Reduction Technology (DRT) program to encourage the use of spray technologies scientifically verified to significantly reduce pesticide drift. But with the recent approval of increased uses of toxic pesticides, such as 2,4-D, and the general lack of compliance with pesticide labels, many believe that this new program may not go far enough to protect non-target sites and vulnerable communities from drift until serious efforts to reduce widespread use of toxic, highly volatile pesticides are undertaken.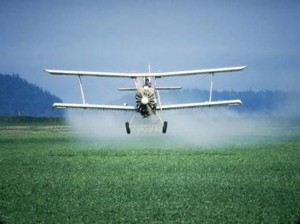 Pesticide drift is an inevitable consequence of pesticide use, and has been a problem for communities adjacent to agricultural areas and non-target sites for decades. Many pesticide products are released as foliar sprays into the air, or volatilize from surfaces where particles can travel for miles from their application site. This means that on a windy day pesticide residues can drift far distances, affecting downwind, vulnerable communities, organic farms and other environments. Legal action has been taken against the agency to protect communities from drift, but EPA has consistently failed to meaningfully address concerns.
To address issues of drift, EPA's new program will attempt to reduce drift by certifying new technologically advanced equipment that can potentially reduce the levels of pesticide residue released into the air. According to the agency, DRT is a voluntary program that encourages manufacturers to test their technologies (such as nozzles, spray shields and drift reduction chemicals) for drift reduction potential. EPA is encouraging pesticide manufacturers to label their products for use with DRT technologies. There are four DRT ratings represented by one, two, three or four stars that are awarded for technologies that demonstrate at least 25 percent reduction in potential spray drift compared to the standard. The greater the number of stars, the greater the potential reduction of spray drift:
One star —Â 25-49 % reduction
Two stars — 50-74 % reduction
Three stars — 75-89 % reduction
Four stars — 90+ % reduction
"Every year state and local agencies receive thousands of complaints about the impacts of pesticide drift on people, wildlife and plants," said Jim Jones, Assistant Administrator for the Office of Chemical Safety and Pollution Prevention. "Our new star-rating system of products and technologies will help farmers reduce drift, protect neighbors and reduce costs by keeping more of the pesticide on the crop. We hope the new voluntary DRT will encourage the manufacture, marketing and use of safer spray technology and equipment scientifically proven to reduce pesticide drift."
Pesticide drift affects thousands of individuals who suffer from acute symptoms resulting from exposures. Non-target sites and organisms are directly affected by adjacent or surrounding agricultural fields- especially farmworker communities, lawns, golf courses etc, where pesticide use totals millions of pounds annually, resulting in harms to sensitive crops, especially organic, water contamination and subsequent harms to wildlife. According to EPA, "One to ten percent of agricultural pesticide sprays drift or move from the intended target crop. Every year about 70 million pounds of pesticides valued up to $640 million are lost to pesticide drift. And, state agencies use substantial resources each year investigating drift complaints. Farmers have long been concerned about reducing pesticide product loss during and after application to crops and minimizing drift to neighbors."
In the past, EPA introduced proposed guidance for new pesticide labeling in an effort to reduce off-target spray and dust drift. According to EPA in 2009, measures were projected to help improve the clarity and consistency of pesticide labels and help prevent harm from spray drift. At the time, EPA set out to determine whether no-spray buffer zones or other measures, such as restrictions on droplet or particle size, nozzle height, or weather conditions, are needed to protect people, wildlife, water resources, schools and other sensitive sites from potential harm. Thus far, current pesticide label directions/statements that warn against pesticide application during windy conditions, or stipulate certain application equipment have proven inadequate to sufficiently mitigate pesticide drift. In fact, given the widespread use of pesticides and the highly volatile nature of many, pesticide drift will continue to be an inevitable consequence of pesticide use, unless efforts are made by the agency to reduce pesticide use overall.
Unfortunately, despite a massive outpouring of public opposition, EPA announced last week that it has approved expanded uses of 2,4-D to be used on genetically engineered (GE) 2,4-D tolerant crops, essentially ushering in a new wave of increased 2,4-D use. In addition to a multitude of human health effects associated with its use, 2,4-D drift has long been a known problem to off-site locations, endangered species, and non-target crops. Many forms of 2,4-D volatilize above 85oF and 2,4-D drift has been known to damage tomatoes, grapes, and other plants. Drift can injure plants half a mile or more from the application site, and concentrations 100 times below the recommended label rates have even been reported to cause injury to grapes. With increased uses on GE crops, 2,4-D drift will become a greater risks to human health and the environment.
Currently, EPA is reviewing guidelines regarding pesticide spray drift in pesticide risk assessments. According to comments submitted by Beyond Pesticides to the agency earlier this year, to properly assess drift, peer-reviewed and scientifically sound human health and ecological toxicity data must be available and fully evaluated, including low-dose and sublethal toxicity. However, data gaps continue to plague the agency's review process, resulting in underestimated risks and subsequent harms, as demonstrated in communities and in the environment. The agency must realize that these flaws in its risk assessment process habitually continue to allow products that pose unreasonable adverse effects to drift into the environment.
Spray technology manufacturers interested in participating in EPA's DRT program may now submit data verifying their technology reduces pesticide movement. EPA says it will evaluate each data submission and, if appropriate, assign a drift-reduction star rating to the product based on its ability to reduce spray drift. EPA will post these ratings at: http://www2.epa.gov/reducing-pesticide-drift. A pesticide manufacturer can choose to label a product for use with a DRT of a particular rating after receiving approval from EPA. Over time, EPA notes the program will move the agricultural sector toward the widespread use of low-drift technologies. EPA states that drift reduction ratings could appear on pesticide labels as early as fall 2015.
For more information on pesticide drift, read Beyond Pesticides' report Getting the Drift on Chemical Trespass: Pesticide drift hits homes, schools and other sensitive sites throughout communities.
The best way to reduce pesticide drift and protect sensitive crops is to support organic agriculture. Organic agriculture embodies an ecological approach to farming that does not rely on or permit toxic pesticides, chemical fertilizers, genetically modified organisms, antibiotics, sewage sludge, or irradiation. For more information about the pesticides registered for use on foods we eat every day, see Beyond Pesticides' Eating with a Conscience guide, and the Organic Food program page.
Source: EPA News Release
All unattributed positions and opinions in this piece are those of Beyond Pesticides.