Keeping Organic Strong: Changes in organic regulations and farming practice
National Organic Standards Board
Stay tuned for the Fall 2016 meeting issues.
Where? Chase Park Plaza Hotel, 212 N. Kingshighway Blvd., St. Louis, MO 63108

When? Wednesday, November 16, 2016 - 8:30am to Friday, November 18, 2016 - 6:00pm

Also see our NOSB archives pages to read about current and past opportunities for public involvement in the development of organic standards.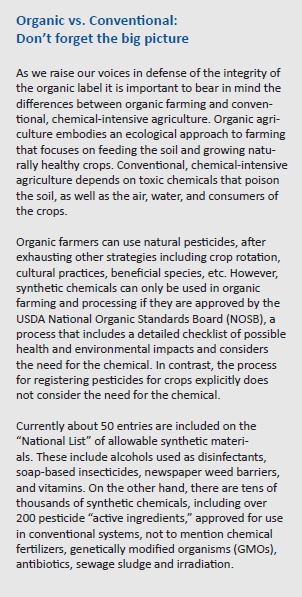 The organic regulatory process provides numerous opportunities for the public to weigh in on what is allowable in organic production. USDA maintains a National List, set by the NOSB, of the synthetic substances that may be used and the non-synthetic substances that may not be used in organic production and handling. OFPA and NOP regulations provide for the sunsetting of listed substances every five years and relies on public comment in evaluating their continuing uses.Sunset review, the process of reviewing substances on the National List every five years, is mandated by the Organic Foods Production Act. No substances are up for sunset review at this meeting. To be added to the list of allowed synthetics, it must be shown that the use of such substances – (i) would not be harmful to human health or the environment; (ii) is necessary to the production or handling of the agricultural product because of the unavailability of wholly natural substitute products; and, (iii) is consistent with organic farming and handling. The public may also file a petition to amend the National List, either by removing a material currently on the list or by adding a new one. In both cases, sunset and petition, the NOSB is authorized by OFPA to determine a substance's status.
For more information on the history of organic agriculture and why it is the best choice for your health and the environment, please see Beyond Pesticides' Organic Food Program Page.