The Fund for Independent Science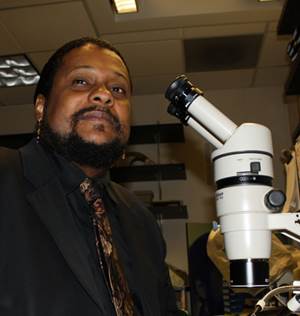 Image of Tyrone Hayes, Ph.D. in his lab.
Listen to a short clip from his talk at the 31st National Pesticide Forum, Albuquerque, NM, 2013.
There are few scientific research projects more important to protecting life and preventing its long-term demise than those conducted by Tyrone Hayes, Ph.D. And now this work is under threat. Dr. Hayes, a Harvard educated biologist and professor of Integrative Biology at the University of California, Berkeley, whose research finds that the herbicide atrazine feminizes male frogs, is one of the leading scientists critical of the pesticide industry and regulatory process. This critical research is threatened while, as Dr. Hayes' points out, amphibian species are in decline and they are disappearing.
Getting to the Scientific Truth
Dr. Hayes' work has shown that current regulatory reviews allow widespread use of pesticides that cause serious adverse effects well below allowable legal standards and when in mixtures not studied. He initially began his research with a study funded by Novartis Agribusiness, one of two corporations that would later form Syngenta, the maker of atrazine. When his results contradicted Novartis' expected or desired outcome, he was criticized by the company, which withdrew its funding. Dr. Hayes continued the research with independent funding and found more of the same results: exposure to doses of atrazine as small as 0.1 parts per billion (below allowed regulatory limits) turns tadpoles into hermaphrodites – creatures with both male and female sexual characteristics. When his work appeared in the prestigious Proceedings of the National Academy of Sciences, Sygenta attacked the study, starting an epic feud between the scientist and the corporation. In fact, a June 2013 investigative report by 100Reporters and Environmental Health News exposed the chemical giant's multi-million dollar campaign to discredit atrazine critics. A February 2014 article in The New Yorker, "A Valuable Reputation," also describes the trials that Dr. Hayes has faced in trying to get the truth out about atrazine. Check out Dr. Hayes' interview on Democracy Now.
Dr. Hayes has published more than 40 papers, over 150 abstracts and has given more than 300 talks on the role of environmental factors on growth and development in amphibians. With the cutbacks in government funds and the relentless industry attacks, Dr. Hayes has recently run into financial woes, including exceedingly high fees from the University's Office of Laboratory Animal Care. We hope that his important work will continue, however without funding there is no way for him to do research.
See article Protecting Life – From Research to Regulation: Disappearance of frogs, human health effects linked to pesticide use.
Watch a full presentation of Dr. Hayes' talk at the 31st National Pesticide Forum held in Albuquerque, NM.
Raising Funds for Independent Science
Beyond Pesticides has established The Fund for Independent Science to support Dr. Hayes' work, to protect life from harmful chemicals. Dr. Hayes' lab operates on a budget of $150,000. Funds raised will keep this critical research going forward. Through this page, we ask you to consider making a pledge to the Fund. If the Fund is able to generate $150,000 in pledges, we will then circle back to collect your contribution. As the Fund grows, we will support other independent scientific research to inform great growth of the sustainable sector.
In general, we need a mechanism for raising substantial dollars from those who support independent scientific research to inform sound public policy that protects health and the environment. We need independent science to understand the toxicology of chemicals that are allowed to be introduced into the environment and our food supply. This information is critical to influence state and local decision makers to act because of industry-dominated regulatory decisions that assume the necessity of toxic materials, driven by companies with an economic interest. Building systems that are not reliant on toxic inputs requires continual understanding of the destructive capacity of toxic materials in commerce and the sustainable practices that can replace them in the marketplace.