Pesticide-Induced Diseases: Body Burden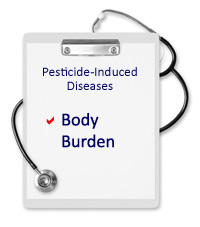 Most people are unaware that they carry chemical compounds in their bodies. Chemical 'Body Burden' refers to the accumulation of synthetic chemicals found in pesticides, cosmetics, industrial solvents, heavy metals, etc in our bodies. At any given time, hundreds of chemicals can be found in blood, urine, breast milk and even umbilical cord blood. Many of these chemicals enter our bodies through the foods we eat or drink, products we put on our skin and air we breathe. Before birth, people normally carry a body burden inherited from their mothers. Scientists believe the typical human being hosts close to 500 chemicals in various compartments in the body, mostly in fatty tissue. Many chemicals are broken down in our bodies and their metabolites are eliminated, but others linger in our bodies for a lifetime and can increase our risk for certain diseases such as cancer and Parkinson's disease.
Over the past decade agencies like the Center for Disease Control and Prevention (CDC) have been tracking chemical burden in the general public by analyzing blood and urine. Termed "biomonitoring," it is considered to be the most health-relevant assessment of exposure because they "measure the amount of the chemical that actually gets into people, not the amount that may get into people." Since 2001, CDC releases its "National Report on Human Exposure to Environmental Chemicals" which documents the environmental chemical exposure in the U.S. population.
Breast Milk
Urine and other compartments
Farmworkers and Farmworker Children
Obesity

GMOs
Maternal and fetal exposure to pesticides associated to genetically modified foods in Eastern Townships of Quebec, Canada
Study analyzed blood samples for 39 nonpregnant women and 30 pregnant woman and their fetuses and finds pesticides associated with genetically engineered (GE) foods are present in maternal, fetal and nonpregnant women's blood. Baccillus thuringiensis (Bt) was detected in 93% of maternal blood samples, 80% of fetal blood samples and 69% of the nonpregnant women's blood. Glufosinate was detected in 18% of nonpregnant women's blood but not detected in maternal and fetal blood. It's metabolite, 3-mehtylphosphinicopropionic acid (3-MPPA), however, was detected in 100% of maternal and umbilical cord blood samples and in 67 % of the nonpregnant women's blood. Visit the Genetic Engineering page and Daily News.
Wildlife
Diamondback terrapins as indicator species of persistent organic pollutants: Using Barnegat Bay, New Jersey as a case study
The diamondback terrapin's (Malaclemys terrapin) wide geographic distribution, long life span, occurrence in a variety of habitats within the saltmarsh ecosystem, predatory foraging behavior, and high site fidelity make it a useful indicator species for contaminant monitoring in estuarine ecosystems. In this study fat biopsies and plasma samples were collected from males and females from two sites within Barnegat Bay, New Jersey, as well as tissues from a gravid female and blue mussels (Mytilus edulis), which are terrapin prey. Samples were analyzed for persistent organic pollutants (POPs), including polychlorinated biphenyls (PCBs), polybrominated diphenyl ethers (PBDEs), chlorinated pesticides, and methyl-triclosan. Terrapins from the northern site, Spizzle Creek, closest to influences from industrial areas, had higher POP concentrations for both tissues than terrapins from the less impacted Forsythe National Wildlife Refuge. Sex differences were observed with males having higher contaminant concentrations in fat and females in plasma. PCB patterns in terrapin fat and plasma were comparable to other wildlife. Plasma contaminant concentrations significantly and positively correlated with those in fat. This study addresses several aspects of using the terrapin as an indicator species for POP monitoring: site and sex differences, tissue sampling choices, maternal transfer, and biomagnification.
[Basile ER, Avery HW, Bien WF, Keller JM. 2011. Chemosphere. 82(1):137-44]