State and Local School Pesticide Policies
Click on the map below to find out more about schools in your area. Data for some states may not be available currently, so check back here often to get the latest on pesticide policies in your schools.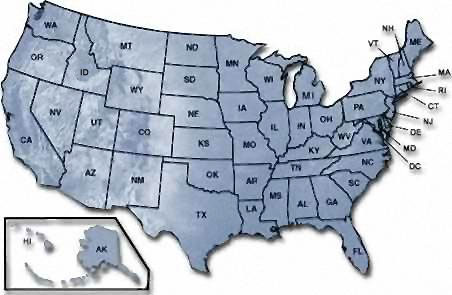 All across the country, communities are taking action to protect children from pesticide use in schools, by establishing least-toxic pest management strategies through adoption and implementation of state and local policies. Raising the level of protection across the nation to meet the highest possible standards regarding these issues is an important goal.
School pesticide policies and programs are being adopted across the country.
Following is a list of 33 state laws and over 400 school districts that are known to have policies or programs regarding integrated pest management, pesticide bans, and right-to-know. We must continue to push schools to adopt, implement, and enforce school pesticide policies that improve the protection of children from pesticides use in schools.
Getting the policy passed is just the first step to protecting our children while at school.
Where a locality offers protection not provided by your community, advocate for it. Where policies exist, make sure that they are enforced. Enforcement of existing pesticide laws is also critical and often the most difficult phase of community-based efforts. Both the adoption of policies and programs and ensuring their enforcement once adopted require vigilant monitoring and public pressure.
Give us your feedback on your school pesticide policy.
If you do not see your school on the following list, but know they have a policy in place, please let us know. Also, send us your feedback on the success or failure of your schools program, so we can make this a valuable guide to school pesticide policies across the country.
State School Pesticide Laws.

Two-thirds of the states, or 33 states, have adopted pesticide acts and regulations that address the protection of children by specifically focusing on pesticide use in, around or near schools. For a comparision of stte school pesticide laws, see Beyond Pesticides report, The Schooling of State Pesticide Laws-2002 Updates. Click on a state to find what laws have been passed that protect children from pesticides. Each state is evaluated on the following five criteria:(i) restricted spray (buffer) zones to address chemicals drifting into school yards and school buildings; (ii) posting signs for indoor and outdoor pesticide applications; (iii) prior written notification for pesticide use; (iv) prohibiting when and where pesticides can be applied; and,( v) requirements for schools to adopt an integrated pest management (IPM) program.
Local School Pesticide Policies
Numerous municipalities, school districts, and individual schools have chosen to adopt school pesticide policies or programs that require a school to use integrated pest management, prohibit the use of toxic pesticides, and/or provide notification of a pesticide application. Raising the level of protection across the nation to meet the highest possible standards regarding these issues is an important goal. If you are interested in finding out additional information click on a state to find a school district's pest management policy.
 
ALABAMA
Auburn City Schools
Pritchard School System

ALASKA
Anchorage School District
Fairbanks North Star Borough School District

ARIZONA
Bisbee
Dragonfleye Charter School
Kyrene School District

CALIFORNIA
Arcata, City of
Berkeley
Fremont Unified School District
Fresno Unified School District
Kentfield School District
Kern High School District
Los Angles Unified School District
Marin County
Mendocino Unified School District
New Haven Unified School District
Novato Unified School District
Oxnard Union High School District
Pine Tree School in Canyon County
Placer Hills Unified School District
San Diego Unified School District
San Francisco Unified School District
San Jose Unified School District
Santa Barbara Unified School District
Ventura Unified School District

COLORADO
Boulder Valley School District
Cherry Creek School District
Jefferson County Public Schools

CONNECTICUT
John Read Middle School
Middletown Public Schools

FLORIDA
Alachua County
Brevard Public Schools
Charlotee County
Columbia County
Dade County
Escambia County
Manatee County
Nassau County
Orange County
Pasco County
Pinellas County
Polk County
Santa Rosa County
Sarasota County
Union County
Volusia County

ILLINOIS
Adlai E. Stevenson High School
Alden Hebron
Anonymous
Bedford Park
Berkley School District 87
Bloom Township High School District 206
Bloomingdale School District 13
Bloomington
Blue Ridge Community Unit School District 18
Brooklyn Unit School District 188
Brownstown Community Unit School District 201
Buncombe Grade School #43
Burnt Prarie
Cambridge Community UnitSchool District 227
Central City School District 133
Central School District 104
Centralia High School District 200
Chester Unit School District 139
Chicago Public Schools
Chrisman Community Unit School District 6
Collinsville Community Unit School District 10
Community Consolidated School District 46
Cornell Community Consolidated School 426
Darien Public Schools
Deland-Weldon Community Unit School District 57
Delavan Community Unit School District 703
Dixon Public Schools 170
Downers Grove Grade School District 58
Durand School District 322
East Maine School District 63
Easton School District
East Peoria
Eldorado Unit School District 4
Community Consolidated School District 59
Eureka Community Unit School District 140
Evergreen Park School District 124
Ewing Grade School
Fisher Community Unit School District 1
Forest Ridge School District 142
Frankfort School District 157
Freeport School District 145
Grant Park Community Unit School District 6
Gridley Community Unit School District 10
Hamilton County Community Unit District 10
Harmony School District 175
Harrisburg Community Unit 3
Highland Community Unit School District 5
HinSchool Districtale
Homewood Flossmoor High School District 233
Illini Bluffs Community Unit School District 327
Illiopolis Community Unit School District 12
Jasper Community Consolidated School District 17
Jasper County Community Unit School District 1
Jersey Community School District 100
Johnston City Community Unit School District 1
Kankakee School District 111
Kildeer Countryside School District 96
LADD CCSchool District 94
LaHarpe Community Unit School District 335
Laraway 70-C
Lawrenceville Community Unit School District 20
Lee Center Community Unit School District 271
Lemont-Bromberek Consolidated School District 113-A
Lincoln Community High School District 404
Lincolnshire-Prarie View School District 103
Litchfield School District 12
Lockport School District 205
Malden Commmunity Consolidated Grade School
Manheim School District 83
McClellan
Meadowview (Community Consolidated Schoold District 46)
Millstadt Consolidated School District 160
Mokena
Mount Vernon School District 201
Mundelein School District 75
Naperville School District
Nelson Elementary School District 8- Lee Co.
North Chicago District 187
North Wayne Unit School District 200
Oakdale Community Consoildated School District 1
Oakland Community Unit School District 5
O'Fallon Community Consoildated School District 90
Olympia School District
Ottawa Township High School
Our Lady of Destiny/ Thomas Jefferson Charter School
Panhandle School District 2
Plano Community Unit School District 88
Pleasant Plains Community Unit School District 8
Princeville Community Unit School District 326
Prospect Heights School District 23
Rich Township District 227
Redding School District
Region No. 9 School District
Robinson Community Unit School District 2
Rochester Community Unit School District 3-A
Rockton School District 140
Roxana Community Unit School District 1
Salt Creek School District 48
Seneca High School
Sesser-Valier School District 196
Shiloh Village School District 85
Skokie School District
South Berwyn School District 100
Southern Community Unit School District 120
St. Rose School District 14-15
Steelville Community Unit 138
Streater Elementary School District 44
Taylorville Community Unit School District 3
Teutopolis
Texico
Thompsonville Districts 62 & 112
Thorton Township High School District 205
Tonica Grade School 79
Tower Hill Community Unit School District 6
Tri-Point Community Unit School District 6-J
Triopia Community Unit School District 27
Troy 30-C
Valley View Community Unit School District 365-U
Virden Community Unit School District 4
Wayne City Community Unit District 100
West Pike Community Unit School District 2
Wheaton
Willow Grove 46
Woodlawn Grade School District 4
Woodlawn High School 205
Yorkwood Community Unit School District 225

INDIANA
Alexandria
Argos
Attica
Avon
Bartholomew
Baugo
Benton Community
Blackford
Bloomfield
Blue River Valley
Bluffton-Harrison
Boone Twp.
Bremen
Brown County
Brownsburg
Cannelton
Carmel Clay
Carroll
Clark Pleasant
Clay
Clinton Central
Clinton Prairie
Cloverdale
Concord
Covington
Cowan
Crawford County
Crawfordsville
Crothersville
Crown Point
Daleville
Danville
Decatur County
Decatur Township
DeKalb Central
DeKalb Eastern
Delaware Community
Delphi
Duneland
East Allen County
East Noble
East Porter
Eastbrook
Eastern (Greene County)
Eastern Hancock
Eastern Howard
Eastern Pulaski
Elkhart
Elwood
Eminence
Evansville
Fairfield
Fayette County
Franklin Community
Franklin County
Franklin Township
Frankton-Lapel
Fremont
Frontier
Garrett-Keyser-Butler
Goshen
Greater Clark
Greater Jasper
Greencastle
Greenfield Central
Greenwood
Griffith
Hammond
Hamilton
Hamilton Heights
Hamilton Southeastern
Hanover
Harrison-Washington
Highland
Hobart
Huntington County
Indianapolis County
Indianapolis Public Schools
Jac-Cen-Del
Jay County
Jennings County
Kankakee Valley
Knox
Lafayette
Lake Central
Lake Ridge
Lake Station
Lakeland
Lanesville
LaPorte
Lawrence Twp.
Lawrenceburg
Lebanon
Liberty-Perry
Linton-Stockton
Logansport
Loogootee
Maconaquah
Madison Consolidation
Madison-Grant
Manchester
Marion-Adams
Merrillville
Michigan City
Middlebury
Mill Creek
Mishawaka
Mississinewa
Mitchell
Monroe County
Monroe-Gregg
Mooresville
Mount Pleasant
Mount Vernon
Mount Vernon Community
Muncie
Munster
New Harmony
Nineveh-Hensley-Jackson
Noblesville
North Gibson
North Harrison
North Judson-San Pierre
North Knox
North Lawrence
North Miami
North Montgomery
North Newton
North Posey
North Putnam
North Spencer
North Vermillion
North West Hendricks
North White
Northeastern Wayne
Northern (Tipton)
Northern Wells
Northwest Allen County
Northwestern (Howard County)
Northwestern (Shelby County)
Oak Hill
Oregon-Davis
Orleans
Paoli
Penn Harris Madison
Perry Central
Peru
Pike County
Pike Township
Pioneer
Plainfield
Plymouth
Portage Township
Porter Township
Prairie Heights
Randolph Central
Randolph Eastern
Randolph Southern
Rensselaer Central
Richland-Bean Blossom
Richmond
Rising Sun-Ohio County
Rockville
Rossville
Scott County Dist. 1
Scott County Dist. 2
Shakamak
Shelby Eastern
Shelbyville Central
Shenandoah
Shoals
Smith-Green
South Adams
South Central
South Dearborn
South Gibson
South Harrison
South Henry
South Madison
South Montgomery
South Newton
South Putnam
South Ripley
South Spencer
South Vermillion
Southeast DuBois
Southeast Fountain
Southeastern (Cass County)
Southern Hancock
Southern Wells
Southwest Allen County
Southwest Parke
Southwest Sullivan
Southwestern (Jefferson County)
Southwestern Shelby
Springs Valley
Steuben County
Sunman-Dearborn
Switzerland County
Taylor
Tell City
Tippecanoe
Tippecanoe Valley
Tipton
Tri-Creek
Triton
Turkey Run
Twin Lakes
Union
Union Twp.
Union-North
Valparaiso
Vigo County
Vincennes
Wabash City
Wabash County
Warren County
Warren Twp.
Warrick County
Warsaw
Washington Twp.
Wawasee
Wayne Township
West Central
West Clark
West Noble
West Washington
Westfield Washington
Westview
White River Valley
Whiting Whitley County
Whitko

IOWA
Cedar Falls Community Schools
Davenport Community Schools
Lewis Central Schools
Souix Central Community Schools
Woodward-Granger Community Schools

Unified School District 506, Altamont Grade School

LOUISIANNA
Mandeville, St. Thomas Parish

MAINE
Five Town Community School District

MARYLAND
Anne Arundel County Public Schools
Frederick County
Howard County Public School System
Montgomery County
St. Mary's County

MASSACHUSETTS
Abington
Acton
Acushnet
Agawam
Amesbury
Amherst
Andover
Arlington
Ashland
Attleboro
Auburn
Avon
Ayer
Barnstable
Bedford
Belchertown
Bellingham
Belmont
Berkley
Berlin
Beverly
Billerica
Boston
Bourne
Boxborough
Boxford
Boylston
Braintree
Brewster
Brimfield
Brockton
Brookfield
Brookline
Burlington
Cambridge
Canton
Carlisle
Carver
Chatham
Chelmsford
Chelsea
Chicopee
Clarksburg
Clinton
Cohasset
Concord
Conway
Danvers
Dartmouth
Dedham
Deerfield
Douglas
Dover
Dracut
Duxbury
East Bridgewater
Eastham
Easthampton
East Longmeadow
Easton
Edgartown
Erving
Everett
Fairhaven
Fall River
Falmouth
Fitchburg
Florida
Foxborough
Framingham
Framingham
Franklin
Freetown
Gardner
Georgetown
Gloucester
Gosnold
Grafton
Granby
Granville
Greenfield
Hadley
Halifax
Hancock
Hanover
Harvard
Harwich
Hatfield
Haverhill
Hingham
Holbrook
Holland
Holliston
Holyoke
Hopedale
Hopkinton
Hudson
Hull
Ipswich
Kingston
Lakeville
Lanesborough
Lawrence
Lee
Leicester
Lenox
Leominster
Leverett
Lexington
Lincoln
Littleton
Longmeadow
Lowell
Ludlow
Lunenburg
Lynn
Lynnfield
Malden
Mansfield
Marblehead
Marion
Marlborough
Marshfield
Mashpee
Mattapoisett
Maynard
Medfield
Medford
Medway
Melrose
Methuen
Middleborough
Middleton
Milford
Millbury
Millis
Milton
Monson
Nahant
Nantucket
Natick
Needham
New Bedford
Newburyport
Newton
Norfolk
North Adams
Northampton
North Andover
North Attleborough
Northborough
Northbridge
North Brookfield
North Reading
Norton
Norwell
Norwood
Oak Bluffs
Orange
Orleans
Oxford
Palmer
Peabody
Pelham
Pembroke
Petersham
Pittsfield
Plainville
Plymouth
Plympton
Provincetown
Quincy
Randolph
Reading
Revere
Richmond
Rochester
Rockland
Rockport
Rowe
Salem
Sandwich
Saugus
Savoy
Scituate
Seekonk
Sharon
Sherborn
Shirley
Shrewsbury
Shutesbury
Somerset
Sommrville
Southampton
Southborough
Southbridge
South Hadley
Springfield
Stoneham
Stoughton
Sturbridge
Sudbury
Sunderland
Sutton
Swampscott
Swansea
Taunton
Tewksbury
Tisbury
Topsfield
Truro
Tyngsborough
Uxbridge
Wakefield
Wales
Walpole
Waltham
Ware
Wareham
Watertown
Wayland
Webster
Wellesley
Wellfleet
Westborough
West Boylston
West Bridgewater
Westfield
Westford
Westhampton
Weston
Westport
West Springfield
Westwood
Weymouth
Whately
Williamsburg
Williamstown
Wilmington
Winchendon
Winchester
Winthrop
Woburn
Worcester
Wrentham
Northampton-Smith
Academy Of Pacific Rim Charter District
Academy of Strategic Learning HMCS District
Benjamin Banneker Charter District
Barnstable Grade 5 HMCS District
Boston Evening Academy HMCS District
Cape Cod Lighthouse Charter District
Champion HMCS District
Murdoch Middle Charter District
City On A Hill Charter District
Codman Academy Charter District
Conservatory Lab Charter District
Community Day Charter District
Sabis International Charter District
Frederick Douglass Charter District
Neighborhood House Charter District
Abby Kelley Foster Regional Charter District
Sabis Foxboro Regional Charter District
Benjamin Franklin Classical Charter District
So.Boston Harbor Academy Charter District
Hilltown Cooperative Charter District
Robert M. Hughes Charter District
Health Careers Academy HMCS District
Lawrence Family Development Charter District
Lawrence Family Development Charter District
Lowell Community Charter District
Lowell Middlesex Academy Charter District
Lynn Community Charter District
Marblehead Community Charter District
Martha's Vineyard Charter District
Ma Academy for Math and Science District
Media and Tech Charter District
Mystic Valley Reg Charter District
New Leadership HMCS District
Francis W Parker Charter District
Pioneer Valley Performing Arts Charter District
Boston Renaissance Charter District
River Valley Charter District
Rising Tide Charter District
Roxbury Preparatory Charter District
Seven Hills Charter District
Somerville Charter District
South Shore Charter District
Sturgis Charter District
Atlantis Charter District
Acton-Boxborough
Adams-Cheshire
Amherst-Pelham
Ashburnham-Westminster
Athol-Royalston
Berkshire Hills
Berlin-Boylston
Blackstone-Millville
Bridgewater-Raynham
Chesterfield-Goshen
Central Berkshire
Concord-Carlisle
Dennis-Yarmouth
Dighton-Rehoboth
Dover-Sherborn
Dudley-Charlton Reg
Nauset
Farmington River Reg
Freetown-Lakeville
Frontier
Gateway
Groton-Dunstable
Gill-Montague
Hamilton-Wenham
Hampden-Wilbraham
Hampshire
Hawlemont
King Philip
Lincoln-Sudbury
Manchester Essex Regional
Marthas Vineyard
Masconomet
Mendon-Upton
Mount Greylock
Mohawk Trail
Narragansett
Nashoba
New Salem-Wendell
Northboro-Southboro
North Middlesex
Old Rochester
Pentucket
Pioneer Valley
Quabbin
Ralph C Mahar
Silver Lake
Southern Berkshire
Southwick-Tolland
Spencer-E Brookfield
Tantasqua
Triton
Up-Island Regional
Wachusett
Quaboag Regional
Whitman-Hanson
Assabet Valley
Blackstone Valley Reg
Blue Hills Voc
Bristol-Plymouth Voc Tech
Cape Cod Region Voc Tech
Franklin County
Greater Fall River
Greater Lawrence RVT
Greater New Bedford
Greater Lowell Voc Tec
So Middlesex Voc Tech Reg
Minuteman Voc Tech
Montachusett Voc Tech Reg
Northern Berkshire Voc
Nashoba Valley Tech
Northeast Metro Voc
North Shore Reg Voc
Old Colony Reg Voc Tech
Pathfinder Voc Tech
Shawsheen Valley Voc Tech
Southeastern Reg Voc Tech
South Shore Reg Voc Tech
Southern Worcester Cty VT
Tri County
Upper Cape Cod Voc Tech
Whittier Voc
Bristol County Agr
Essex Agr Tech
Norfolk County Agr

 

MICHIGAN
Allegan
Allendale Public Schools
Ann Arbor Public Schools
Bangor Public Schools
Birmingham Public Schools
Coopersville Area Public Schools
Detroit Cass Technical High School, Detroit Public School System
East Jordan Public Schools
Emerson Elementary, Saginaw Public Schools
Fremont Public Schools
Fruitport Community Schools
Godwin Heights PublicSchools
Grand Haven Area Public Schools
Grand Rapids Public Schools
Greenville Public Schools
Harbor Springs Public Schools
Kalamazoo Public Schools
Muskegon Area Intermediate School District
Paw Paw Public Schools
Perrysburg Schools
Reeths-Puffer Schools
Rockford Public Schools
Saninaw High School, Saginaw Public Schools
Saranac Community Schools
Shelby Public Schools
Southfield Publiic Schools
Sturgis Public Schools
Sylvan Christian School
Walter French Academy
Washtenaw Intermediate School
District campus
Waverly Community Schools
West Ottawa Public Schools

MINNESOTA
Hopkins School District 270
Willmar Public Schools

NEW JERSEY
Belmar
Cedar Grove
Chatham
Dennis
Evesham
Eastern Camden County Regional
Galloway
Hackensack
Haddonfield
Hamburg
Long Beach Township
Mansfield
Medford
Monroe
Neptune
Newark
North Caldwell
North Burlington
Palmyra
Princeton Regional School District
St. Rose (Belmar)
Sea Isle City
Shamong
Sterling
Upper
Willingboro

NEW MEXICO
Albuquerque Independent School District
Clovis School District
Rio Rancho
Santa Fe Public Schools
Taos

NEW YORK
Baldwin Union Free Schools
Buffalo
Chappaqua Schools
Freeport Schools
Fulton City School District
Hewlit-Woodmere Central Schools
Homer Central Schools
Locust Valley
Nassau County
New York City Schools
Oswego City Schools
Pine Ridge/Rondout Valley Central Schools
Roosevelt Central Schools
Susqueanna School
Syracuse

NORTH CAROLINA
Chapel Hill-Carrboro City Schools
Durham County Schools
Elkin City Schools
Granville County Schools

Pitt County Schools

Wake County Schools

OHIO
Athens City School
Beavercreek School District
Brookville Local Schools
Cleveland Heights
Mad River Local Schools
Northmont City School District
Perrysburg Schools
Southwestern City School District
Twin Valley Schools
Worthington City School District
Yellow Springs Schools

OKLAHOMA
Muskogee Public Schools

OREGON
Eugene Public Schools
Fernridge
Lincoln County
Portland Public Schools

PENNSYLVANIA
Abington
Ambridge
Bethlehem Area
Bristol
Central Dauphin
Central Bucks
Cheltenham
Colonial
East Allegheny
Everett
Garnet Valley
Great Valley
Haverford
Ligonier Valley
Lower Merion
Marple-Newtown
Methacton
Montoursville
Neshaminy
Norristown
North Penn
Owen J. Roberts
Penn Hills
Pennridge
Pennsbury
Perkiomen Valley
Philadelphia School District
Phoenixville
Pittsburgh School District
Plum Borough
Pottsgrove
Quakertown
Radnor
Rose Tree Media
Souderton
Springfield (Delaware Co)
Tredyfrrin-Easttown
Upper Darby
Upper Dublin
Upper Moreland
West Chester Area School District
West Perry
Wilkinsburg
Wissahickon

SOUTH CAROLINA
Richland School District 2
School District 5 of Lexington and Richland Counties
Nursery Road Elementary, School District 5 of Lexington and Richland Counties

TENNESSEE
Nashville Metro Public Schools
Knoxville
Memphis City Schools
Tullahoma
Chattanooga

TEXAS
Andrews Independent School District
Austin Independent School District
Birdville Independent School District
Lewisville Independent School District
Humble Independent School District
Spring Branch Independent School District

UTAH
Granite School District
- In spring 2002 Granite School District was using least-toxic methods of pest control (they replaced their spray program with the use of baits) and considered adopting an IPM program. As of June 2002, it is unknown if the school board has officially adopted a policy.

VERMONT
Burlington

VIRGINIA
Falls Church

WASHINGTON
Bainbridge Island
Carl Sandburg Elementary School, Lake Washington School District
Mercer Island School District
Northshore School District, Bothell
North Thurston School District
Olympia School District
Seattle
Sedro-Woolley School District No. 101
Shoreline School District
Vashon Island School District

WEST VIRGINIA
Cabell County

WISCONSIN
Ashwaubenon School District
DC Everest Area Schools, Schofield
Forest Lane Elementary, Montello Junior and Senior High School, Montello
Fox Point – Bayside School District, Milwaukee
Lake Bluff School, Shorewood
Lloyd Street Gloval Education School, Milwaukee
Madison Metropolitan School District
Newark Christian Academy, Beliot
Nicolet UHS School District
Neenah School District, Neenah
Richmond School District, Sussex
Rio Elementary School, Rio Community School District
St. Patrick's School, Mauston
St. Vincent De Paul, Wisconsin Rapids
Tomahawk School District, Tomahawk
21st Street Elementary School, Milwaukee School District
Waterford Graded School District

 

 

For more information contact Michele Roberts, Program Director,
Beyond Pesticides, 701 E Street, S.E., Suite 200, Washington, DC, 20003, [email protected]