Pesticides and You
Back issues
Archive issues are in Adobe PDF format; you will need the free Acrobat Reader to view them.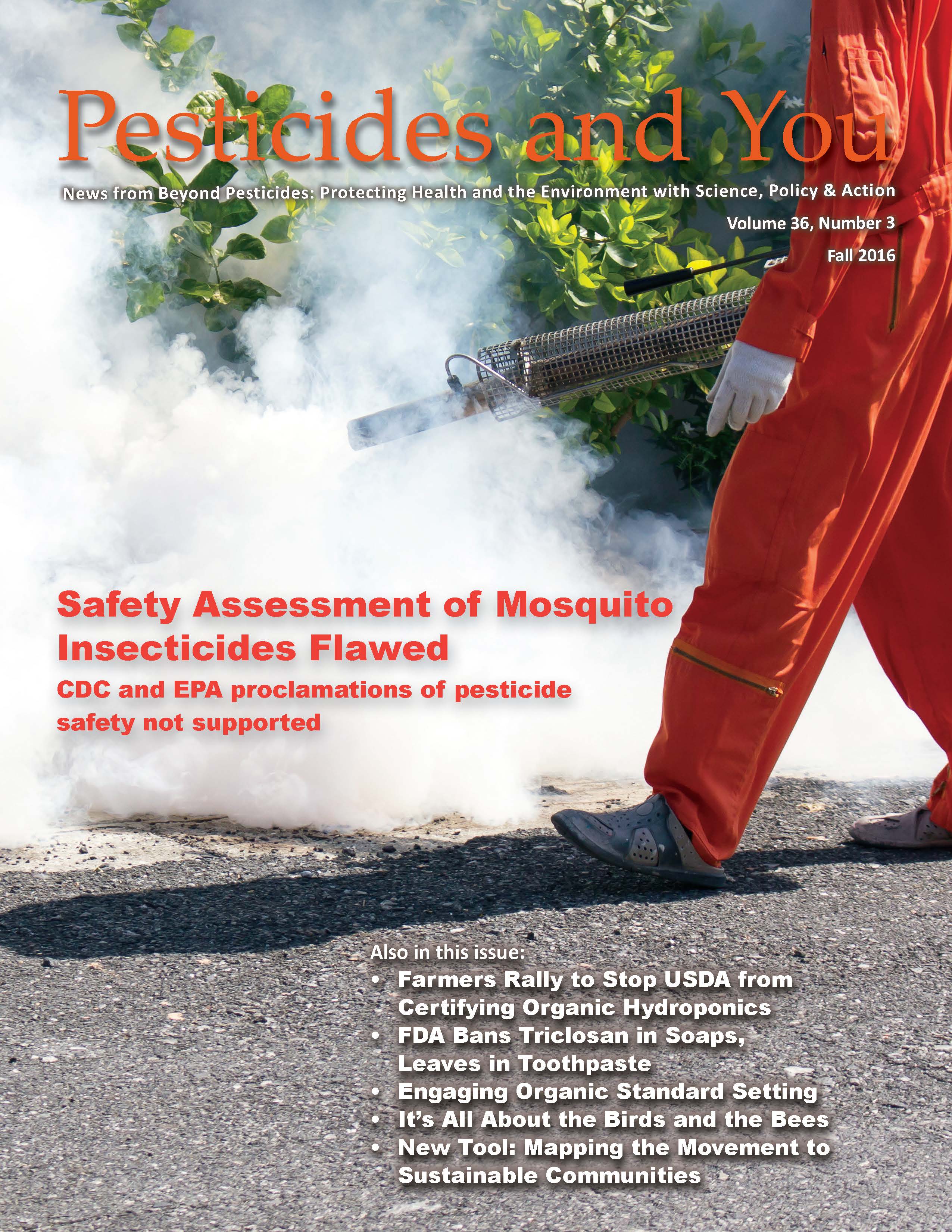 - Letter From Washington: Consumers Drive Marketplace Change, Regulators Follow
- FDA Bans Triclosan in Soaps, Leaves in Toothpaste
- Safety Assessment of Mosquito Insecticides Flawed
- ChemicalWatch Factsheet: Naled
- Engaging with Organic Standard Setting
- Farmers Rally to Stop USDA from Certifying Organic Hydroponics
- It's All About the Birds and the Bees
- Mapping the Movement to Sustainable Communities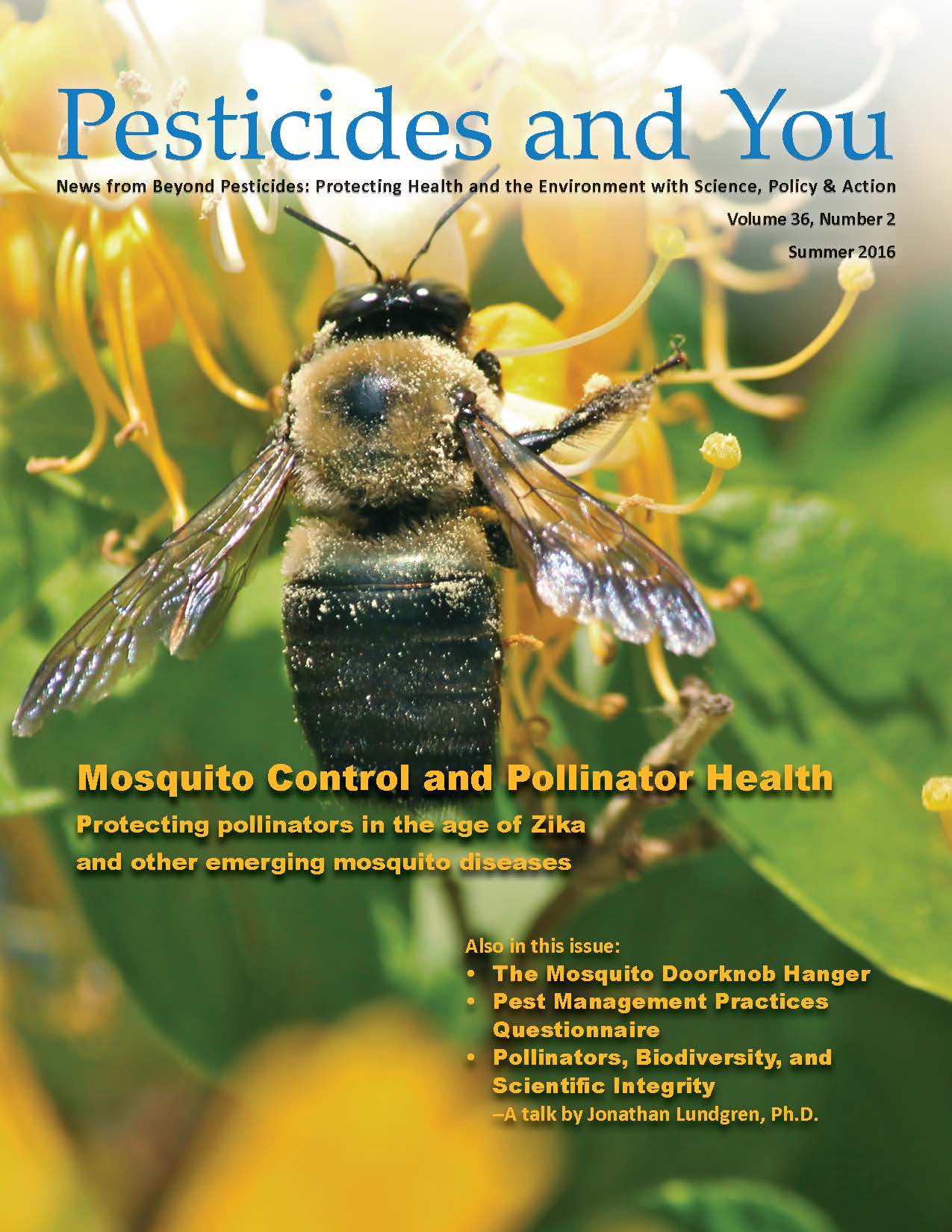 - Letter from Washington: Despite Myths, Communities and Farms End Toxic Pesticide Use
- Mail: What Pesticides are Sprayed on Cannabis?; Help Us Watchdog the Government
- Mosquito Control and Pollinator Health (fully cited)
- Mosquito Doorknob Hanger
- Pollinators, Biodiversity, and Scientific Integrity: A talk by Jonathan Lundgren, Ph.D.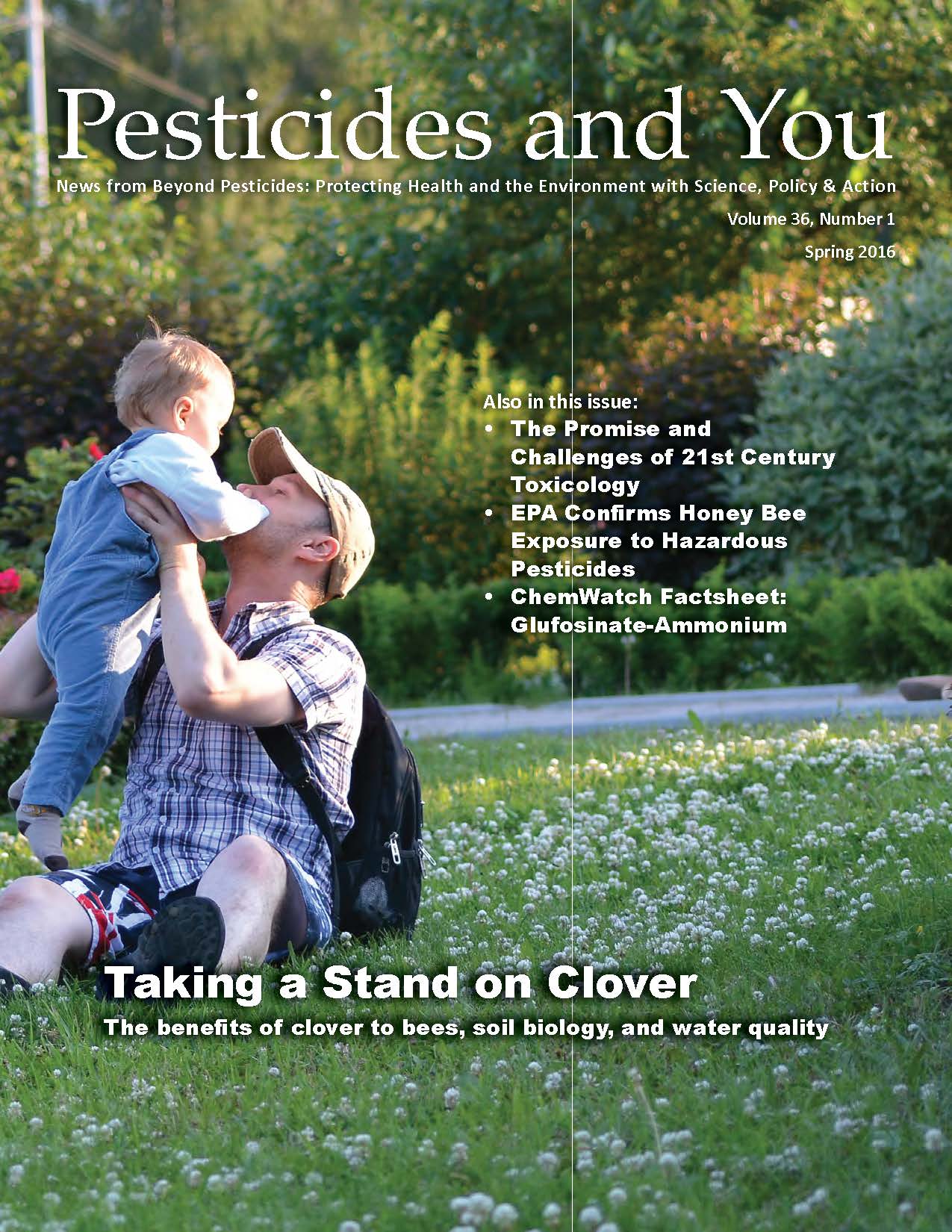 - Letter from Washington: Ending the Toxic Assault on Soil to Protect Human Health and the Environment
- Taking a Stand on Clover (fully cited)
- EPA Confirms Honey Bee Exposure to Hazardous Pesticides
- The Promise and Challenges of 21st Century Toxicology (fully cited)
- ChemicalWatch Factsheet: Glufosinate-Ammonium (fully cited)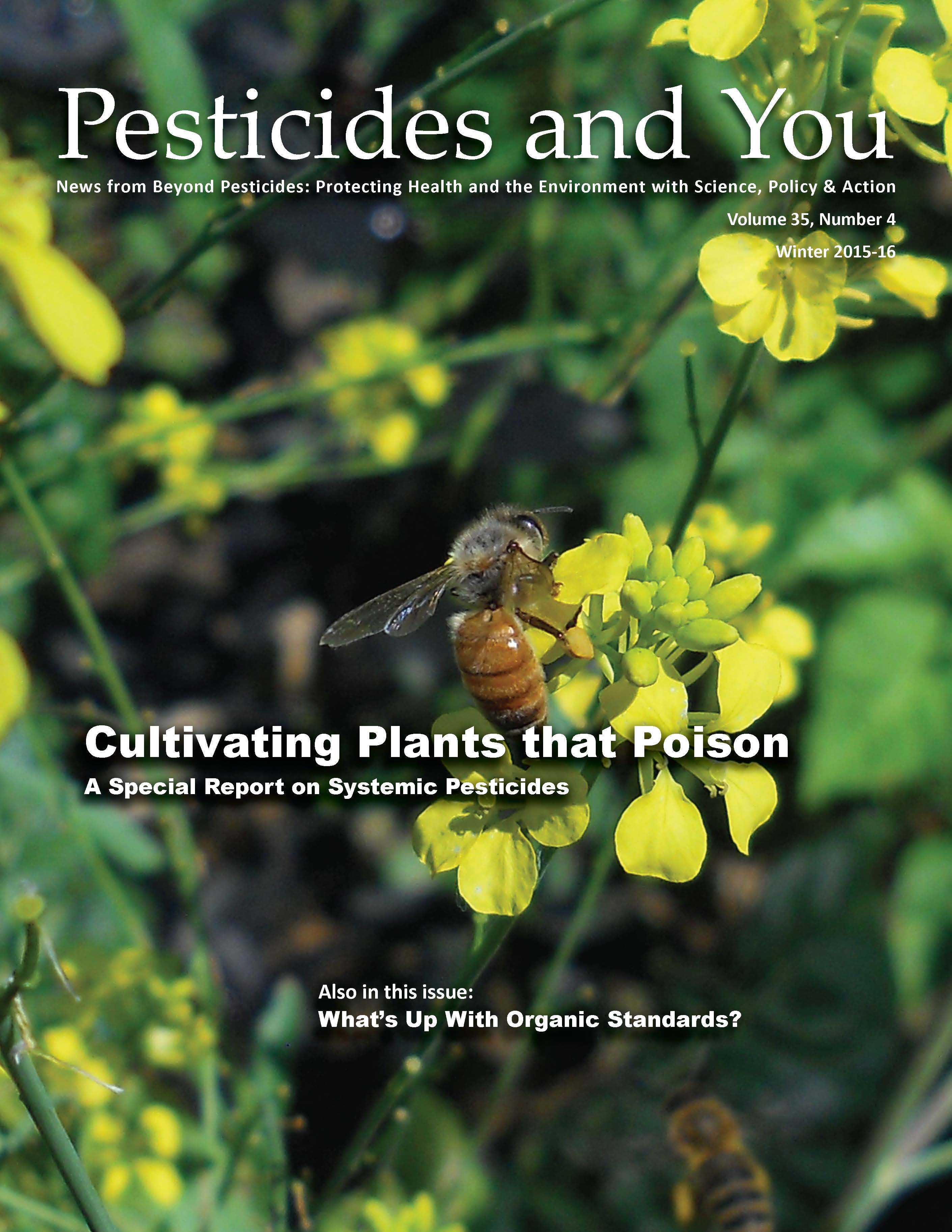 -Letter from Washington: 35 Years of Progress and the Tipping Point Within Our Sight
-Cultivating Plants that Poison Bees, Butterflies and Birds (fully cited)
-What's Up with Organic Standards?
Fall 2015 (Vol. 35, #3)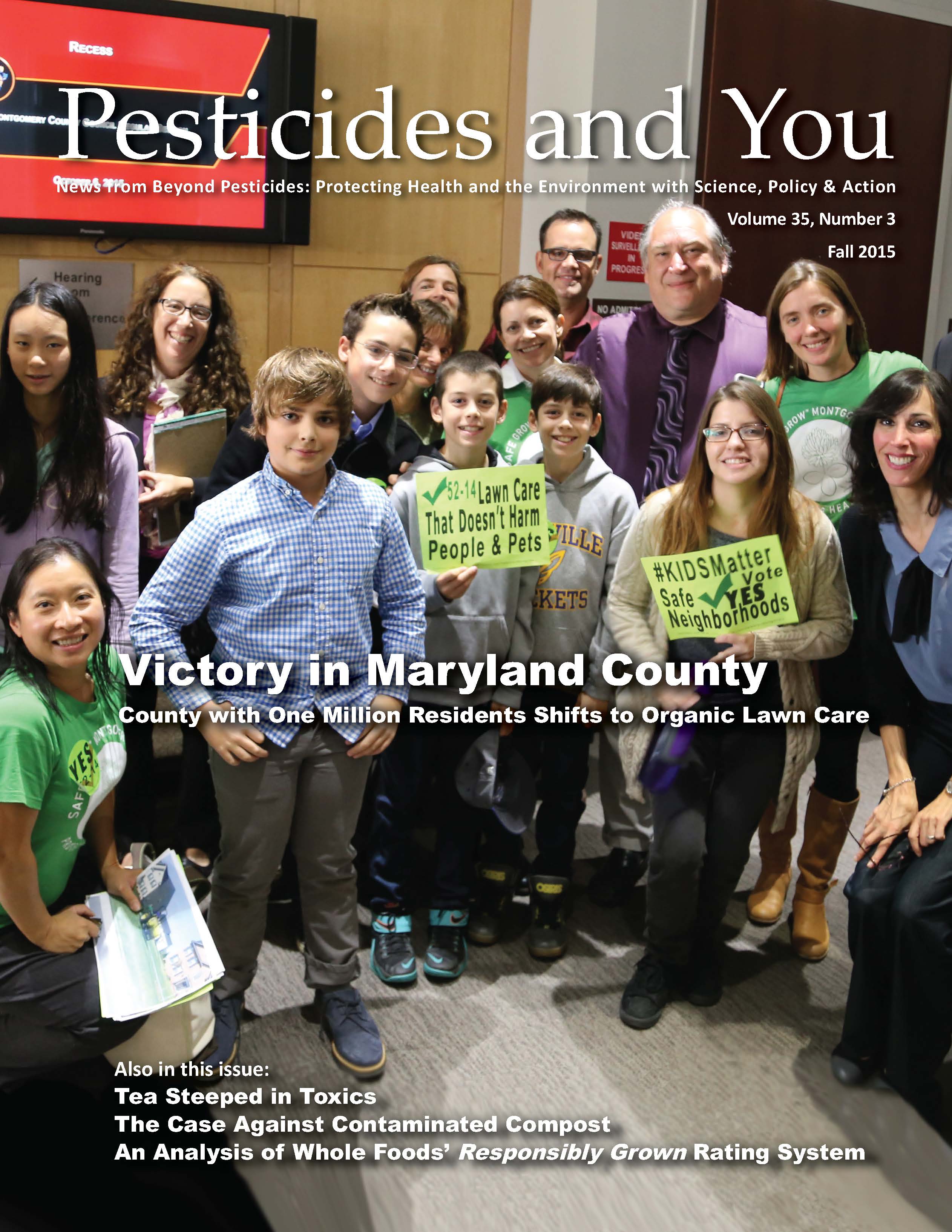 - Letter from Washington: Celebrating Organic Lawns Policy and Protecting Our Victories
- PAY Mail
- Tea Steeped in Toxics
- The Case Against Contaminated Compost
- When Sustainable Is Less than Organic, Is it Responsibly Grown?
- County with One Million Residents Shifts to Organic Lawn Care
Summer 2015 (Vol. 35, #2)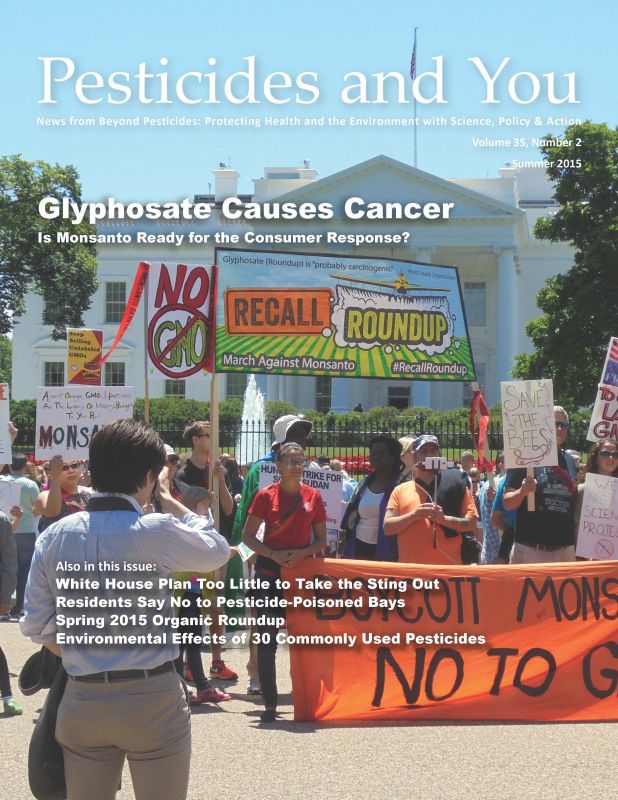 - Letter from Washington: Another One Should Bite the Dust
- Glyphosate Causes Cancer
- White Houe Plan too Weak to Take the Sting Out
- Residents Say No to Pesticide-Poisoned Bays
- Spring 2015 Organic Roundup
- Environmental Effects of 30 Commonly Used Pesticides

Spring 2015 (Vol. 35, #1)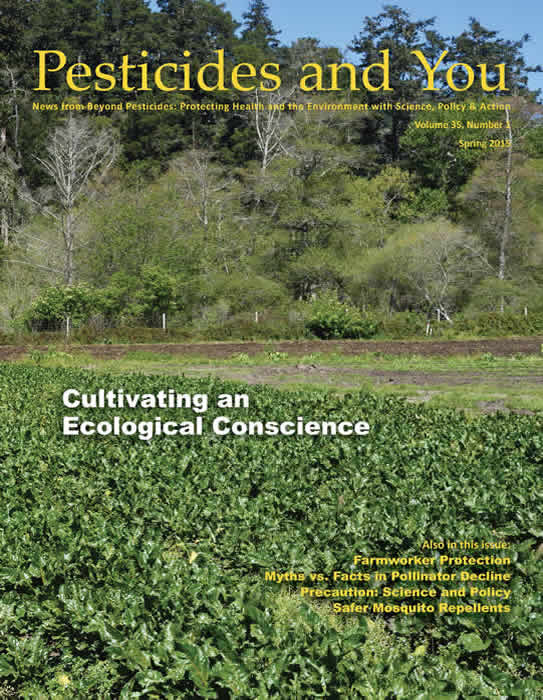 - Sowing Seeds of Doubt
- The Time is NOW for Strong, Federal Protections for Farmworkers
- Precaution: Science and Policy
- How to Repel Mosquitoes Safely
Winter 2014/2015 (Vol. 34, #4)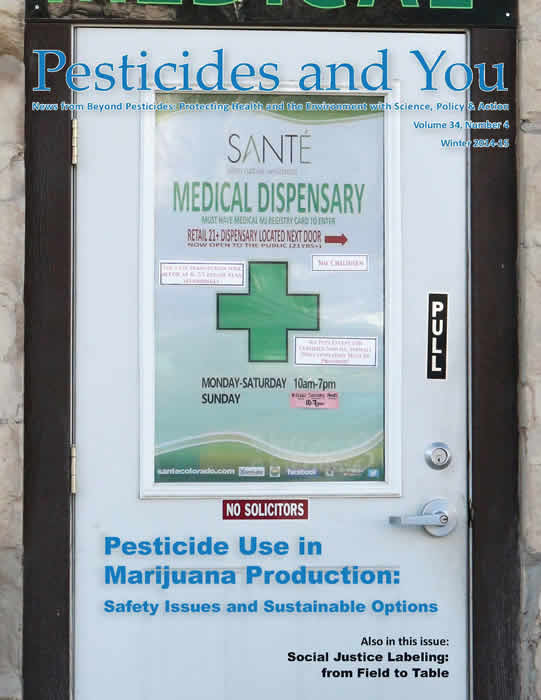 - Letter from Washington
- Social Justice Labeling: From Field to Table
- Pesticide Use in Marijuana Production: Safety Issues and Sustainable Options


- Letter from Washington: Ogunquit, Maine Voters Choose to Protect Health and the Environment
- Wastewater Irrigation on Farms Contaminates Food
- Beyond Poison Poles: Elected officials say no to toxic utility poles in their communities
- Hedgerows for Biodiversity
- A BEE Protective Update
Summer 2014 (Vol. 34, #2)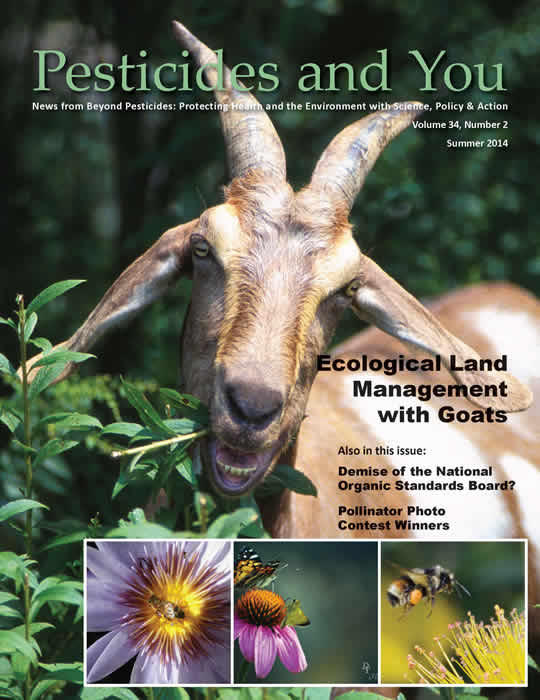 - Letter from Washington: Voices Raised to Protect Organic Standards
- Ecological Land Management with Goats
- Demise of the National Organic Standards Board?
- Book Review : Poison Spring
Spring 2014 (Vol. 34, #1)


-No Longer a BIG Mystery: Recent Scientific Research Confirms the Role of Pesticides in Pollinator Decline
-Farm Bill 2014: Sustainability Not A Big Winner
-When Politics Trumps Science and Health Suffers: Sulfuryl Fluoride
-Up Next: 2,4-D
Winter 2013/2014 (Vol. 33, #4)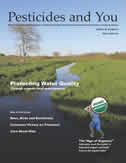 -Protecting Water Quality Through Organic Land Management
-Letter from Washington: The Time to Act is Now...Like Never Before; Stop the Attack on Organic
-The "Age of Organics"
- Bees, Birds and Beneficials
Fall 2013 (Vol. 33, #3)

-Poisoned Dreams: Family's home contaminated, health threatened
-State Preemption Law: The battle for local control of democracy
-The Right Way to Vegetation Management: An updated review of selected pest management policides and programs for rights-of-way
Summer 2013 (Vol. 33, #2)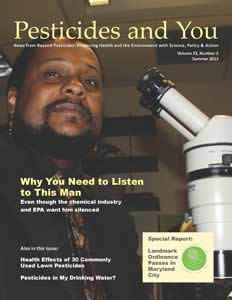 - Letter from Washington: Independent Science Informs Landmark Citywide Pesticide Phaseout
- Protecting Life: From Research to Regulation
- Landmark Ordinance Passes in Maryland City
- Pesticides in My Drinking Water?
Spring 2013 (Vol. 33, #1)
-Letter from Washington: BEE Protective with Organic Systems
-BEE Protective Habitat Guide
 Winter 2012/2013 (Vol. 32, #4)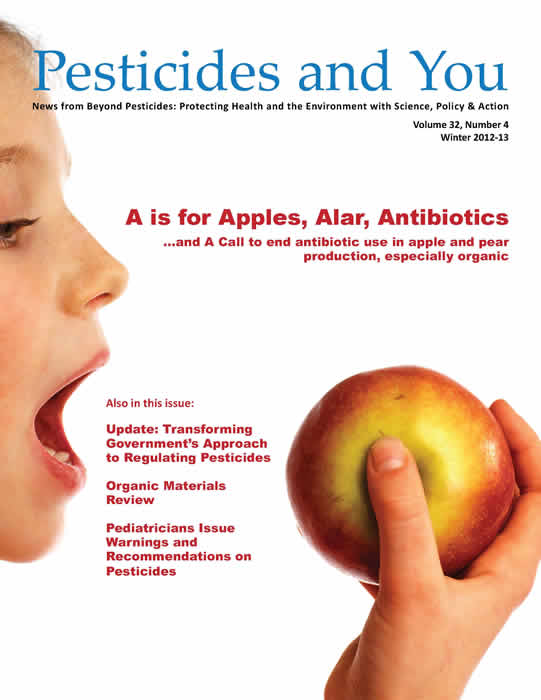 - Letter from Washington: EPA Hands the Reins to Industry on Honey Bee Decline
- A is for Apples, Alar, Antibiotics...and A Call to end antibiotic use in apple and pear production, especially organic
- Pediatricians Issue Warnings and Recommendations on Pesticides
- Update: Transforming Government's Approach to Regulating Pesticides, What a Second Obama Term Can Do to Stop the Toxic Treadmill
 Fall 2012 (Vol. 32, #3)


- Letter from Washington: Medical Community Takes a Stand on Pesticides
- Biosolids or Biohazards?
- Maintaining a Delicate Balance: Eliminating phosphorus contamination with organic soil management
- Rodenticides, Hazardous to Children, on Their Way Out

 


Summer 2012 (Vol. 32, #2)



- Letter from Washington: On the 50th Anniversary of Silent Spring, A Call to Action
- Controversy Over Processed Organics
- Back to the Future: Communities doused with pesticides in response to West Nile virus outbreak
- Back to School Guide
- Chemical Watch Factsheet: Indoxacarb

Spring 2012 (Vol. 32, #1)


- Letter from Washington: "Persevere. Persevere. Nothing worthwhile is easy."
- Do It Yourself Biodiversity
- Will Your Lawn Be Genetically Engineered? Scotts-Miracle Gro's Roundup-Ready Kentucky bluegrass is coming soon to a store near you
- Groups Take on Crisis in Democracy: Connecticut efforts
- Canada Declares Triclosan Toxic: Beyond Pesticides talks on public radio
 Winter 2011-2012 (Vol. 31, #4)



- Letter from Washington: Preserving Biodiversity Is the Key to Sustainability
- Consumer Choice and the Spread of Genetically Engineered Food: Just Label It! Campaign
- Preserving Biodiversity As If Life Depends on It: The Impacts of Federal Policy on Biodiversity
- Groups to EPA: Ban bee-killing pesticide: Agency begins process of reviewing the neonicotinoid pesticide clothianidin
 Fall 2011 (Vol. 31, #3)
- Letter from Washington: Beyond Pesticides at 30 years: Successes and Challenges
- The Real Story on the Affordability of Organic Food AND Eating Organic Food on a Budget
- Dear Consumer: Herbicides Kill Trees! EPA's conditional registrations continue to cause harm
- ChemicalWatch Factsheet: Aminopyralid
- A Remembrance: Creating a legacy for protecting health and the environment
 

Summer 2011 (Vol. 31, #2)


- Letter from Washington: Support for Organic High as the Critics Keep Coming
- Threatened Waters: Congressional assault on our environmental laws
- Antibiotics in Fruit Production: A challenge to organic integrity
- Poisoned Golf: A groundskeeper speaks out on contamination and poisoning
- Genetically Engineered Food: Failed promises and hazardous outcomes
 

Spring 2011 (Vol. 31, #1) 


- Letter from Washington: At the Crossroads of Sustainability: Choices
- Ready or Not, Genetically Engineered Crops Explode on Market: USDA allows new GE crops over objections of growers, environmentalists, manufacturers, and retailers
- Organic Q&A with the Rodale Institute: If you do one thing to feed the world, keep us safe and heal the planet: Demand Organic
- Protecting Pollinators: Stopping the Demise of Bees


Winter 2010-11 (Vol. 30, #4)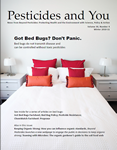 - Letter from Washington: Managing Bed Bugs. . .The Challenge Continues
- Keeping Organic Strong How you can influence organic standards
- Got Bed Bugs? Don't Panic. Bed bugs do not transmit disease and can be controlled without toxic pesticides
- Bed Bug Policy Regulatory Decisions, Congressional Intervention and the Rise of Bed Bugs
- Pesticide Resistance
- ChemWatch Factsheet: Propoxur
 
Fall 2010 (Vol. 30, #3)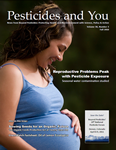 - Letter from Washington: Bed Bug Frenzy
- Sowing Seeds for an Organic Future The Organic Foods Production Act at Twenty Years Old by Michael Sligh
- Reproductive Problems Peak with Pesticide Exposure Seasonal water contamination studied by Paul Winchester, MD
- ChemWatch Factsheet: Oil of Lemon Eucalyptus


Summer 2010 (Vol. 30, #2)

- Letter from Washington: New Beyond Pesticides Databases Support Toxic-Free
- Organic Food: Eating with a Conscience For you, workers and the environment
- Wide Range of Diseases Linked to Pesticides Database supports policy shift from risk to alternatives assessment
- Beyond Slime The least-toxic control of slugs and snails



Spring 2010 (Vol. 30, #1)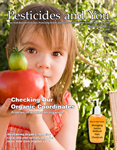 - Letter from Washington: Environmental Disaster Calls for Precautionary Policy
- Managing Germs Without Toxic Chemicals: Taking on triclosan with growing momentum
- Checking Our Organic Coordinates: Where have we been and where we need to go from here
- Maintaining Organic Integrity: 2010 USDA Inspector General audit spurs improvements
- Local AND (Not Versus) Organic
- Grow Your Own Organic Food: Organic gardening guide
 
Winter 2009-2010 (Vol. 29, #4)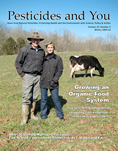 - Letter from Washington: Applying Organic Law to the Protection of Children and Toxics Policy Reform
- Schooling Without Pesticides: Federal bill suspends hazardous pesticide use, defines safe management practices
- The School Environment Protection Act of 2009: Myths and Facts
- Growing an Organic Food System: One farmer's experience converting from a chemical-intensive to organic dairy operation

Fall 2009 (Vol. 29, #3)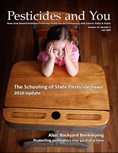 - Letter from Washington: A Seat at the Obama Organic Table
- Schooling of State Pesticide Laws: 2010 Update. The fourth edition of the report originally released in 1998
- Backyard Beekeeping: Providing pollinator habitat one yard at a time.

Summer 2009 (Vol. 29, #2)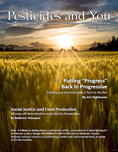 - Putting "Progress" Back In Progressive: The route to social justice, fair food and a sustainable environment. by Jim Hightower
- Social Justice and Food Production: Winning self-determination and justice for farmworkers. by Baldemar Velasquez
- A Tribute to Shelley Davis: A Celebration of Life, A Commitment to Keep Fighting for Farmworker Justice
- Groups File Petition to FDA to Ban triclosan

Spring 2009 (Vol. 29, #1)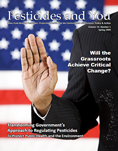 - Transforming Government's Approach to Regulating Pesticides
Winter 2008-2009 (Vol. 28, #4)
- Taking Toxics Out of Health Care
Fall 2008 (Vol. 28, #3)
- Letter from Washington: Chemical Sensitivity Demands Accomodation for Humans and Bees
- Naming the 'Cides That Poison and Kill...Revisited
- Pollinators and Pesticides: Escalating crisis demands action
- Imidacloprid
- Chemical Sensitivity and the ADA
Summer 2008 (Vol. 28, #2)
- Making Sure Green Consumer Claims are Truthful
- Common Antibacterial Chemical triclosan Raises Public Safety Concerns
- Farmworker Justice and Our Healthy Future, by Arturo Rodriguez
- Silent Snow: The Unimaginable Impact of Toxic Chemical Use, by Marla Cone
- Remembering Erik Jansson
Spring 2008 (Vol. 28, #1)
- Letter from Washington: Ignoring the (Startling) Facts
- Clearing the Air of Toxic Mothball Repellents
- Wood Preservatives Avoid the Axe
- Pesticides that Disrupt Endocrine System Still Unregulated by EPA | uncited version
- Pesticides Trigger Parkinson's Disease, by Kagan Owens | uncited version
Winter 2007-08 (Vol. 27, #4)
- Letter from Washington: Danger at (Really) Low Dose
- Grounding out Grubs: Managing grubs with prevention and least-toxic strategies
- How Safe is Your Bait?: Pesticides may be labeled as "nonvolatile," but still release poisons into the air
- Facing Scientific Realities, Debunking the "Dose Makes the Poison" Myth: The big picture - linking pesticide science and health effects, by Warren Porter, Ph.D.
Fall 2007 (Vol. 27, #3)
- Letter from Washington
- Compost is the Key to Successful Plant Management
- Pesticides and Pets: What you should know to keep your pets safe
- Replacing Poisons with Precaution in Pest Management: The vision driving the precautionary principle, by Debbie Raphael
- A Personal Story and the Change that Followed: Turning a poisoning incident into a precautionary policy, by Robina Suwol
Summer 2007 (Vol. 27, #2)
- Ending Toxic Dependency: The State of IPM. State IPM laws allow broad dependency on toxic pesticides; four states call for pesticide reduction and alternatives
- Review: Animal, Vegetable, Miracle: A Year of Food Life (A book by Barbara Kingsolver, Stephen Hopp and Camille Kingsolver)
Spring 2007 (Vol. 27, #1)
- Climate Change, Plant Biology and Public Health: Impacts of elevated temperature and carbon dioxide on agriculture and beyond by Lewis Ziska, Ph.D.
- The Organic Farming Response to Climate Change: One of the most powerful tools in fighting global warming sequesters atmospheric carbon, data suggests a new worldwide urgency for the transition from chemical to organic agriculture by Paul Hepperly, Ph.D.
- Fighting Fumigation: How two renters fought the fumigation of their townhome community by Ron & Anna Winship
- Nanotechnology's Invisible Threat by Jennifer Sass, Ph.D.
- Review: The Omnivore's Dilemma (A book by Michael Pollan)
Winter 2006-07 (Vol. 26, #4)
- Silent Summer: Georgia community organizes against pesticide manufacturing waste by Cathy Strong
- Bed Bugs: Back with a Vengeance. Detection, prevention and least toxic control of bed bugs
- Fungi to the Rescue: Biopesticide derived from mold has promise as a greener method for eradicating unwanted insects by Paul Stamets
- The Future of Organics: Organic values, farmer enthusiasm, rural development and consumer leadership by George Siemon
Fall 2006 (Vol. 26, #3)
- In Appreciation: John Bell Clark, 1937 - 2006: Stop dignifying the myth of pesticide benefits
- Beyond Pesticides Pays Tribute to Pesticide Reformers: Dragonfly Awards Honor Community-Based Activism, Scientific Inquiry and Protective Policy
Summer 2006 (Vol. 26, #2)
- Rodents Teach Lesson of Failed Chemical Controls: City officials gather to learn new approaches to
rodent management less dependent on chemicals, more focused on habitat reduction
- Pesticides and Playing Fields: Are we unintentionally harming our children?
- Scotts Poisons the Wrong Family: A family that sought to avoid lawn chemicals had its yard mistakenly treated by Scotts Lawn Service By Robert H. Ryan
- Managing West Nile Virus Without Poisoning People: Communities choose safer, more effective
prevention approaches
- Sublethal Effects of Exposure to Cholinesterase-lnhibiting Pesticides: Humans and vertebrate wildlife By Katharine C. Parsons, Stephanie R. Schmidt, Gina Tarbill, Kelley R. Tucker
Spring 2006 (Vol. 26, #1)
- School Lunches Go Organic: Science supports growing movement
- Local Mom Organizes for Organic School Lunches: An interview with Vanessa Ruddy, Olympia, Washington
- Beyond Pesticides 25th Anniversary Gala Honors Leaders
- Planting Deep Organic Roots: Town health code incorporates organic pest management By Pat Beckett
- Piperonyl Butoxide (PBO) ChemWatch Factsheet
- The Minnesota Honey Bee Battle: MN Supreme Court protects pollinators from pesticides
Winter 2005-2006 (Vol. 25, #4)
- Open Letter to the Organic Community: On passage of changes to organic law and organic integrity
- In the Words of Arthur Harvey
- Pesticide Poisoning in a Normal Day: Victims tell experiences to stop practices that poison
- Taking Off the Blindfold: EPA ignores toxic exposures in risk assessment
- Threatened Waters: Turning the tide on pesticide contamination
- Spreading the Word, Not Chemicals: Door-hanger promotes safe solutions for lawn care
- 2,4-D Escapes Federal Axe… For Now: Two states and Canada pursue restrictions
Fall 2005 (Vol. 25, #3)
- Ethics Vs. Law
- Commentary: EPA To Allow Human Testing with Pesticides
- Parents Approach School Health Staff Toxic Pesticide Free "For My Child's Health"
- Groups Ask FDA To Ban Antibacterial Products Containing triclosan
- Poisoning Our Pets: How a bug killer almost killed my dog By Sue Sturgis
- How To Manage Houseplant Pests
- Common Pesticide Poisons Homes
Summer 2005 (Vol. 25, #2)
- Speaking Truth to Power
- Bates v. Dow Agrosciences Sanity restored in products liability law? by H. Bishop Dansby, Esq.
- Organic Land Care and the Development of National Standards
- Children and Lawn Chemicals Don't Mix
- Asthma, Children and PesticidesWhat You Need to Know (Full Brochure Version)
- Court Weighs in on Organic IntegrityThe organic label gets a check up
Spring 2005 (Vol. 25, Issue #1)
- National Movement Targets Lawn Care Poisons: Activists declare aesthetic use of pesticides unjustified
- National Coalition for Pesticide- Free Lawns Declaration
- The Gloves Are Off vs. Get A Grip: The greenwashing of the chemical lawn care industry
- ChemicalWATCH Factsheet: 2,4-D
- 8 Steps to a Toxic-Free Lawn
- The Coming Revolt: Charting a course to stop the use of poisons
Winter 2004-2005 (Vol. 24, Issue #4)
- Letter From Washington: The Bush EPA: All Business, No Science
- Triclosan Update: More information and feedback on this common antibacterial agent
- The Safer Choice: How to avoid hazardous home, garden, community and food use pesticides (color booklet version)
- The Organic School Garden: Hands-on teaching of environmental health values
Fall 2004 (Vol. 24, Issue #3)
- Letter from Washington: Four More Years, BP continues its grassroots action agenda
- Montana's War on Weeds: Dow Chemical influences Forest Service shift to its herbicides
- The Ubiquitous triclosan: A common anti-bacterial agent exposed
- Lessons of the West Nile Virus Response: After five years, what have we learned?
- Alliance for lnformed Mosquito Management Platform
- Five Steps to Stop the Spraying
Summer 2004 (Vol. 24, Issue #2)
- Letter from Washington: Shame on our Government Leadership
- Wreaking Havoc with Life: Atrazine causes hermaphroditic frogs By Tyrone Hayes, PhD
- ChemWatch Factsheet: Atrazine
- Getting the Drift on Chemical Trespass
- State Lawn Pesticide Notification Laws
Spring 2004 (Vol. 24, Issue #1)
- Letter From Washington: What's the Chemical Lawn Industry Up To?
- No Justice for Pesticide Victims
- Do Pesticides Affect Learning Behavior By Warren Porter, PhD
- Contaminated Without Consent By Sandra Steingraber, PhD
- A Crack in the Wood Preservatives Case
Winter 2003-04 (Vol. 23, Issue #4)
- Letter From Washington: Sacred Cows to Mad Cows
- Healthy Hospitals (excerpts) - this piece is contains excerpts from the report Healthy Hospitals, which is available here in its Full Version.
- Synergy: The big unknowns of pesticide exposure
- Getting the Dirt on Good Soil By Hendrikus Schraven
Fall 2003 (Vol. 23, Issue #3)
- Letter From Washington: Doing the Right Thing
- Oppression and Farmworker Health in a Global Economy By Baldemar Velasquez
- Voices for Pesticide Reform 2003
- Back to School Organizing for Safer Pest Management
Summer 2003 (Vol. 23, Issue #2)
- Safer Schools: Achieving a healthy learning environment through integrated pest management - this piece is contains excerpts from the report Safer Schools, which is available here in its entirety.
- The Pesticide Link to Mad Cow Disease: The disease hits Canada. Is the U.S. next? By Mark Purdey
- Pests in the Pantry: Keys to moth management
Spring 2003 issue (Vol. 23, Issue #1)
- Letter from Washington: Globalization, Democracy and Chemical Weapons
- The Truth About West Nile Virus: Bad information and fear lead to dangerous responses
- Ecological Pest Management: Embracing the organic approach to landscape management by Stephen J.Restmeyer
- The Fight for Fair (and Safe) Trade: A critique of international trade agreements ' impact on health and the environment by Michelle Swenarchuk
- Factsheet: Chromated Copper Arsenate (CCA) Treated Wood
- When Mold Attacks: Strategies to prevent, detect and control mold in your home
- Resources: Studies Show Benefits of Eating Organic
Winter 2002-2003 issue (Vol. 22, Issue #4)
- Letter from Washington: Change, Now! The case for suing EPA
- lnspect, Detect, Correct: Structural lntegrated Pest Management strategies at school by Jerry Jochim
- Pushing to End The Horror of Hazardous Wood Preservatives: Taking the case against toxic wood preservatives to court
- Arsenic and Old Spaces by Sandra Steingraber
- Bringing Lawsuits for Childhood Cancer by H. Bishop Dansby, Esquire
- Calling All Activists: How to start and run a local beyond pesticides organization
- Resource: A Review of The Culture of Make Believe
Fall 2002 issue (Vol. 22, Issue #3)
- What Does the USDA Organic Seal Mean For You? A national organic standards fact sheet
- Are Schools Making the Grade? School districts nationwide adopt safer pest management policies
- The Emergency Pesticide Use Loophole: Little watched provision allows widespread unlabelled pesticide use
Summer 2002 issue (Vol. 22, Issue #2)
- ChemicalWATCH Factsheet DEET
- Backyard Mosquito Management: Practices that do not poison you or the environment
- Managing Mosquitoes Without Poisoning People: What to do BEFORE pesticides or West Nile Virus get to your neighborhood
- Public Health Mosquito Management Strategy: Managing mosquitoes and insect-borne diseases with safety in mind
Spring 2002 issue (Vol. 22, Issue #1)
- Pesticides Threaten Salmon by Pollyanna Lind
- Help Eliminate Dangerous Wood Preservatives
- The Schooling of State Pesticide Laws - 2002 Update
- Schools Save Money With lntegrated Pest Management
- Taking the Terror Out of Termites
Winter 2001-02 (Vol. 21, Issue #4)
- Schools Give Pesticides a Failing Grade
- Good Riddance to Roaches: a guide to home cockroach management
- How Pesticides and Chemicals Can Affect Children and Adults by Doris Rapp, M.D.
- Economic and Ecological Costs of Weed Control: putting invasive species management in perspective by David Pimentel
- Dead Weeds or Healthy Ecosystems: setting and achieving goals the ecological way by Tim Seastedt
- Biological Control of Noxious Weeds: Using insects to manage invasive weeds by Tim Seastedt
- Controlling Noxious Weeds with Goats: the natural choice that manages weeds and builds soil health by Lani Lamming
Fall 2001 (Vol. 21, Issue #3)
- Poison Playgrounds: An investigation into wood treated with CCA
- CCA-Treated Lumber Poses Danger From Arsenic and Chromium
- Beyond Picnics: controlling ants in your home
- ChemicalWATCH Factsheet: Boric acid
- Preparing for a Campaign: a framework for winning by Mary O'Brien

Summer 2001 (Vol. 21, Issue # 2)
- 20th Anniversary Issue: only hardcopies available, see above.

Spring 2001 (Vol. 21, Issue #1)
- Weather and the West Nile Virus
- Economic and Environmental lmpacts of lnvasive Species and Their Management by David Pimentel
- Planning for Planting: how to plan your organic garden
- ChemicalWATCH Factsheet: Glyphosate
- Fluoride: The Hidden Poison in the National Organic Standards by Ellen and Paul Connett

Winter 2000-01 (Vol. 20, Issue #4)
- Pesticides Linked to Parkinson's Disease
- Minimizing Mouse Madness: a guide to house mouse control
- ChemicalWATCH Factsheet: Rodenticides
- Ten Myths Behind Pesticide-Dependent Pest Management in Schools
- ls Global Warming Harmful to Health? by Paul R. Epstein, MD

Fall 2000 (Vol. 20, Issue #3)
- Getting Nit Picky About Head Lice
- ChemicalWATCH Factsheet: Lindane
- ChemicalWATCH Factsheet: Synthetic Pyrethroids
- Stop the Poisoning: excerpts from a Beyond Pesticides forum
- A Framework for Environmental Thinking: a critical scientific look at the biotechnology industry by Barry Commoner

Summer 2000 (Vol. 20, Issue #2)
- Congress Wants to Weaken Children's Provision of Pesticide Law
- Lawn Mowers and Leaf Piles: Fall is prime time for lawn care
- Wood Preservatives Cause lllnesses
- The Schooling of State Pesticide Laws - 2000 update (most recent version available on the Schools project page)

Spring 2000 (Vol. 20, Issue #1)
- Momentum to Protect Children from School Pesticide Use Catches Fire
- Cultivating the Community: New York's urban organic gardens
- The LowDown on Dursban: provisions of the phase-out agreement & alternatives to using chlorpyrifos

Winter 1999-2000 (Vol. 19, Issue #4)
- An Open Letter to Public Officials on Mosquito-Borne Disease Control
- Campaign to Stop Poison Poles
- School Environment Protection Campaign: building the movement behind SEPA
- Pesticides and Plastic Mulch: threatening the health of Maryland and Virginia's Eastern Shore

Fall 1999 (Vol. 19, Issue #3)
- School Environment Protection Act introduced in the Senate and the House of Representatives by Senator Robert Torricelli, Senator Patty Murray and Philip Landrigan, MD
- San Francisco's Pesticide Phase-Out: What happens after the law is passed? by Gregg Small and Deborah Raphael

Summer 1999 (Vol. 19, Issue #2)
- How to Report Pesticide Adverse Effects & Get Access to Reported Adverse Effects Information by James Handley
- On Good Land: the autobiography of an urban farm by Michael Abelman
- Salmon's Trouble With Seattle
- How Does Your Utility Company Rate?
- Going Beyond Pesticides: Should we be taking back the term "Integrated Pest Management"? by Terry Shistar
Spring 1999 (Vol. 19, Issue #1)
- The Right Way to Vegetation Management
- Chemicals Found to Affect Male Reproductive System in New Way
- A Review of The Poisoning of Public Thoroughfares: how herbicides blight California's roads

Winter 1998-99 (Vol. 18, Issue #3 + #4)
- The Building of State Indoor Pesticide Policies
- The Dispossessed: living with multiple chemical sensitivities
- The Schooling of State Pesticide Laws: a petition to the federal government and a response

Fall 1998 (Vol. 18, Issue #2)
- Report: The Schooling of State Pesticide Laws: a review of state laws regarding schools (most recent version available on the Schools project page)

Spring & Summer 1998 (Vol. 18, Issue #1)
- The Environmental Risks of Transgenic Crops: an agroecological assessment by Miguel A. Altieri
- Toxic Warning Signals: how to avoid pesticide injury by Terry Shistar
- Beyond Pesticides, getting the alternatives you need
- The War on Weeds: why alternatives to herbicides should be used, on Earth Day and everyday
- Pressure Building to Stop Implementation of the Food Quality Protection Act
Winter 1997-98 (Vol. 17, Issue #4)
- What Is It About the National Organic Program that Has Dan Glickman So Uptight? by Steve Sprinkel
- Undermining Organic by Claire Cummings
- Proposals That Violate the Law have Deep Roots
- From Where We Stand: the views of farmers, consumers, environmentalists, scientists, and the chemically sensitive
- Building a Public Record that Counts by Richard Lance Christie
- Congressional Views on Proposed Rule
- A Report from the Front Lines by Steve Sprinkel