Cultivating Healthy Communities: Growing Biodiversity and Eliminating Toxics as Regenerative Climate Solutions
List of Speakers
Speakers are listed in alphabetical order.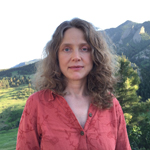 Rella Abernathy, PhD, is the Integrated Pest Management Coordinator for the City of Boulder, Colorado. Boulder was one of the first cities to adopt an IPM policy and neighbor notification ordinance for pesticide applications. Boulder has nearly 100 urban parks and more than 47,000 acres of open space land. The city has reduced pesticide use substantially since its 1993 adoption of its first IPM policy, with the goal of reduction and elimination of pesticide use whenever possible. Rella became the IPM Coordinator for the City of Boulder in 2009. With a background in entomology, she worked at the EPA's pesticide program on sustainable agriculture and pesticide reduction policy.

Caroline Cox is research director at the Center for Environmental Health in Oakland, California. Previously she served as staff scientist at the Northwest Coalition for Alternatives to Pesticides. Prior to working at NCAP, she had nearly 10 years' experience as a senior research assistant at Oregon State University, where she conducted research on the biological control of agricultural weeds. Caroline serves as a public interest representative to EPA's Pesticide Program Dialogue Committee. She also serves on the Board of Directors of Beyond Pesticides, and writes and speaks regularly as a national expert on the toxicity of, and alternatives to, pesticides.
Jay Feldman is a cofounder of Beyond Pesticides and has served as its director since 1981. Jay dedicated himself to finding solutions to pesticide problems after working with farmworkers and small farmers through a 1978 EPA grant to the national advocacy organization Rural America (1977–1981). Since then, Jay has helped to build Beyond Pesticides' capacity to assist local groups and to impact national pesticide policy. He has tracked specific chemical effects, regulatory actions, and pesticide law. He is very familiar with local groups working on pesticides and has helped develop successful strategies for reform in local communities. His work with media has fostered broader public understanding of the hazards of pesticides. Jay has a Master's degree in urban and regional planning with a focus on health policy from Virginia Polytechnic Institute and State University (1977), and a BA from Grinnell College (1975) in political science. In September 2009, U.S. Department of Agriculture Secretary Tom Vilsack appointed Jay to the National Organic Standards Board (NOSB), where he completed a five-year term in January 2015. 
Melinda Hemmelgarn, MS, RD, is a Registered Dietitian, investigative nutritionist, and advocate for social and environmental justice in the food system. She believes in using the power of art and media to influence public opinion, change public policy, and improve quality of life. She is a freelance writer, speaker, and host of nationally syndicated Food Sleuth Radio. Her mission: help people "think beyond their plates"; connect the dots between food, health and agriculture; and promote critical thinking and food system literacy.
Jonathan Lundgren, PhD, is an agroecologist, Director ECDYSIS Foundation, and CEO for Blue Dasher Farm. Lundgren's research and education programs focus on assessing the ecological risk of pest management strategies and developing long-term solutions for regenerative food systems.
Charles E. ("Chip") Osborne Jr. is a nationally renowned organic turfgrass expert and a professional horticulturist with 35 years' experience in greenhouse production (as the former owner and operator of Osborne Florist & Greenhouse in Marblehead, Massachusetts). Founder and president of Osborne Organics, also in Marblehead, he has 10+ years' experience in creating safe, sustainable, and healthy athletic fields and landscapes, and 35 years' experience as a professional horticulturist. As a wholesale and retail nurseryman he has firsthand experience with the pesticides routinely used in the landscape industry. Personal experience led him to believe there must be a safer way to grow plants. His personal investigation, study of conventional and organic soil science practices, and hands-on experimentation led him to become one of the country's leading experts on growing organic turf. Chip is a Beyond Pesticides board member.
Routt Reigart, MD, is professor of Pediatrics at Medical University of South Carolina and has conducted university affiliated clinical trials since 1971. Routt is one of the nation's top pediatric expert on pesticides. His research interests include children's environmental health issues, general pediatrics, and toxicology. Routt has been Chair of EPA's Children's Health Protection Advisory Committee, a member of EPA/USDA/Tolerance Reassessment Advisory Committee and the FIFRA Science Advisory Panel, and CDC Chair for the Childhood Lead Poisoning Advisory Committee. He is also co-editor of EPA's Recognition and Management of Pesticide Poisonings.
Emma J. Rosi, PhD, is advancing our understanding of how land use, urbanization, and climate change shape freshwater ecosystems, with projects exploring environmental contaminants such as pharmaceutical and personal care products, aging wastewater infrastructure, environmental implications of agricultural GMOs, and the effects of dams. Rosi directs the Baltimore Ecosystem Study (BES), a National Science Foundation Long Term Ecological Research site. As part of BES, Rosi is exploring the role that failing wastewater infrastructure plays in polluting streams and creating antibiotic-resistant 'superbugs'. She is also revealing how prescription and illicit drugs that enter our waterways impact freshwater quality and aquatic life. In addition to her work on human-driven threats to freshwaters, Rosi co-leads a long-term project, in collaboration with Yale University, investigating how wildebeest and hippos shape the food web in the Kenyan reach of Africa's Mara River. Rosi is a leader in the field of novel and emerging freshwater contaminants and serves on the Ecological Processes and Effects Committee of the US Environmental Protection Agency's Science Advisory Board. She also sits on the editorial board of the journal Ecosystems and is a reviewer for the National Science Foundation.
Leonardo Trasande, MD, MPP, is an internationally renowned leader in children's environmental health.  His research focuses on identifying the role of environmental exposures in childhood obesity and cardiovascular risks, and documenting the economic costs for policy makers of failing to prevent diseases of environmental origin in children proactively.  He also holds appointments in the Wagner School of Public Service and NYU's College of Global Public Health.  He is perhaps best known for a series of studies published in Lancet Diabetes and Endocrinology and the Journal of Clinical Endocrinology and Metabolism that document disease costs due to endocrine disrupting chemicals in the US and Europe of $340 billion and €163 billion annually, respectively. He is the author of the book Fatter, Sicker, Poorer.
---
Videos from the 37th National Pesticide Forum last year in New York, NY are available to watch on our YouTube Channel.
THANK YOU! The generosity of our sponsors helps make for a great event year after year. The sponsors listed below are current contributers to the 38th National Pesticide Forum scholarship fund, making it possible for people from around the country to participate in one of the most important grassroots pesticide meetings of the year. Learn more about becoming a sponsor for this year's forum. Click on the logos for more information.