Role of National Watchdog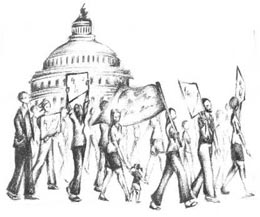 Beyond Pesticides serves as a watchdog for federal and state agencies, which are institutionalizing "acceptable" levels of public exposure to harmful pesticides known to cause chronic health effects, such as cancer, neurological and immune system disorders. We encourage concerned citizens to become part of this public process. By adding your voice to the regulations.gov dockets, you put pressure on government officals to increase citizen safeguards and hold pesticide manufacturers accountable.

What's New at EPA's Office of Pesticide Programs (OPP)? Beyond Pesticides' webpage brings you the latest information from OPP. Please provide a comment on the dockets listed.
What's New at the Pesticide Program Dialogue Committee (PPDC)? Beyond Pesticides now holds a seat on the PPDC! As a representative member of the Environmental/Public Interest stakeholder group of the PPDC, Beyond Pesticides is able to provide independent advice to EPA that represents the views of Beyond Pesticides. Through this committee EPA and Beyond Pesticides, on behalf of our members, can foster meaningful communication and understanding a wide range of pesticide issues, many of which are scientifically and technically complex. Click here for more information on the PPDC and its latest meeting!

View Comments to Government Agencies: Beyond Pesticides continuously sends comments on pesticide policies to the EPA and the USDA,, as well as state and local agencies.
For more information on many of the pesticides addressed in Beyond Pesticides' watchdogging activities see the Gateway on Pesticide Hazards and Safe Pest Management. This database tool provides decision makers, practitioners, and activists with easier access to information on pesticide hazards and safe pest management.
For questions on upcoming issues or any of Beyond Pesticides' comments, send an email to [email protected] or call us at 202-543-5450.