27
Mar
(Beyond Pesticides, March 27, 2015) Portland, Oregon is considering a ban on neonicotinoids, a class of insecticides linked to bee deaths, from use on city property. If the measure passes, Portland will join a long list of towns and communities, including Eugene (Oregon), Skagway (Alaska), and, in Washington State, Thurston County, Seattle, and Spokane.
Under the proposed ordinance, city officials would not be permitted to use or buy neonicotinoids or similar pesticides on city lands or in city buildings and would urge stores to label products, such as plants and seeds treated with neonicotinoids. The proposal also applies to city contractors.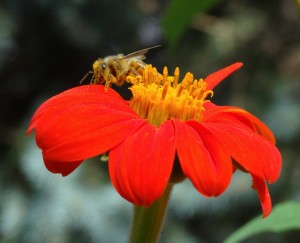 Additionally, the proposed ban on neonicotinoids and neonicotinoid-like insecticides would not apply immediately to two city rose gardens. Officials say the rose midge, a pest, is difficult to eradicate with the insecticide. Instead the city will look for an alternative method using a pilot project at Peninsula Park in North Portland to test alternative non-toxic insecticides. That proposal would be phased in with a deadline of December 2017 to eliminate all neonicotinoid-based products.
The proposal cites seven separate bumble bee incidents in Oregon related to the application of neonicotinoids on trees since June 2013, documented by the state's Department of Agriculture. Six of those incidents occurred in the greater Portland area. The proposal also mentions growing scientific evidence linking the pesticides to pollinator decline and damage to beneficial organisms, as well as the contamination of neonicotinoids in our nation's waterways. The proposal specifically lists imidacloprid, clothianidin, thiamethoxam, dinotefuran, and other neonicotinoid or neonicotinoid-like, systemic, persistent pesticides.
"I think it's appropriate for us to take this kind of action," said Mayor Charlie Hales, referring to the city's track record of green policy proposals.
Commissioner Steve Novick said the city doesn't necessarily need a smoking gun linking the insecticides to bee die-offs. "The cautious thing to do is to get rid of them," Mr. Novick said.
The City Council held a public hearing on Wednesday to discuss the proposal and a final vote is expected April 1.
Meanwhile, federal action to curb threats to pollinators posed by neonics remains sluggish. Some promising steps have been taken, such as the ban of neonics on National Wildlife Refuges and the issuance of a Presidential Memorandum, Creating a Federal Strategy to Promote the Health of Honey Bees and Other Pollinators, and establishment of a corresponding White House Task Force. However, federal agencies, such as the U.S. Department of Agriculture and Environmental Protection Agency remain hesitant to take meaningful action.
As federal efforts languish, local efforts like the Thurston County bans provide a promising opportunity for communities across the United States to stand up for pollinators. Visit Beyond Pesticides' BEE Protective webpage to learn more about the issue and what can be done to protect pollinators.
Take Action! With your help, we can prompt Portland to join other cities that have shown they care about pollinators by banning the use of neonicotinoids. Comments need to be submitted by Tuesday March 31, as the Commissioners plan to vote on the ordinance the next day, April 1.
E-mails can be sent to Mayor Hales and Commissioners Fish, Fritz, Novick and Saltzman: [email protected], [email protected], [email protected], [email protected], [email protected]
Source: The Oregonian
All unattributed positions and opinions in this piece are those of Beyond Pesticides