20
Jan
(Beyond Pesticides, January 20, 2015) The 33rd National Pesticide Forum, Agricultural Justice, Age of Organics, and Alligators: Protecting health, biodiversity, and ecosystems, will be held April 17-18, 2015 (Friday afternoon and all day Saturday) at the Florida A&M University College of Law (FAMU) in Orlando, FL. The 2015 conference is convened by Beyond Pesticides, Farmworker Association of Florida, and FAMU. Co-sponsors include Agricultural Justice Project, Coalition of Immokalee Workers, Florida A&M University Small Farms Program, Florida Organic Growers, Food and Water Watch Florida, Just Harvest USA, Orange Audubon Society, Youth & Young Adult Network (YAYA) of the National Farmworker Ministry. If your group is interested in joining as a co-sponsor, please feel free to email us.
This year's conference will focus on agricultural justice, including the impact of pesticide use on human health and the environment, particularly as it relates to farmworker protections and organic agriculture. Biodiversity, pollinator protection, and other relevant issues for central Florida, including West Nile virus, pesticides in schools and hospitals, and genetic engineering will also be covered.
The 33rd National Forum provides an opportunity to share the current science and policy information and discuss local, state, and national issues. The conference, including a tour in the Apopka area, runs from the afternoon of April 17 through the evening of April 18, and brings together scientists, policy makers, and public health and environmental advocates to interact and strategize on solutions that are protective of health and the environment.
Featuring:
Louis Guillette, PhD, Director of the Marine Biomedicine & Environmental Sciences Center and a Professor, Obstetrics & Gynecology at the Medical University of South Carolina (MUSC). He is also Professor of the Howard Hughes Medical Institute, and the SmartState Endowed Chair in Marine Genomics, at the SC Center of Economic Excellence.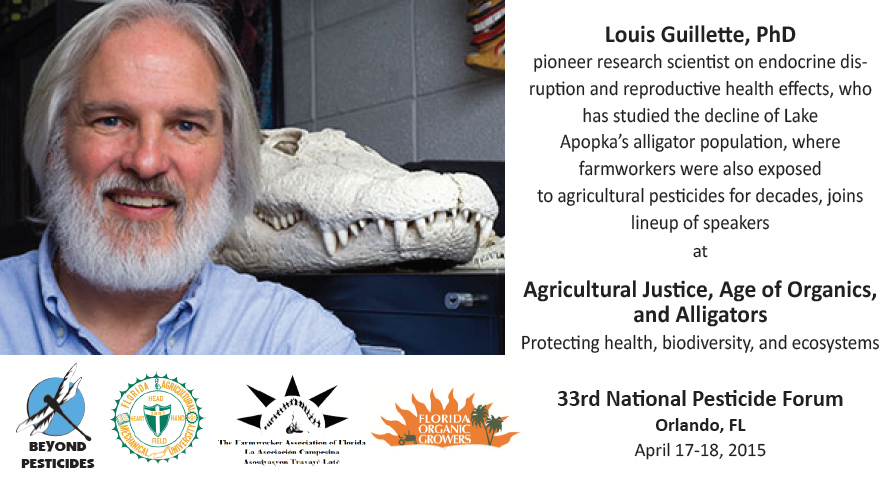 Tirso Moreno, co-founder and general coordinator of the Farmworker Association of Florida (FWAF).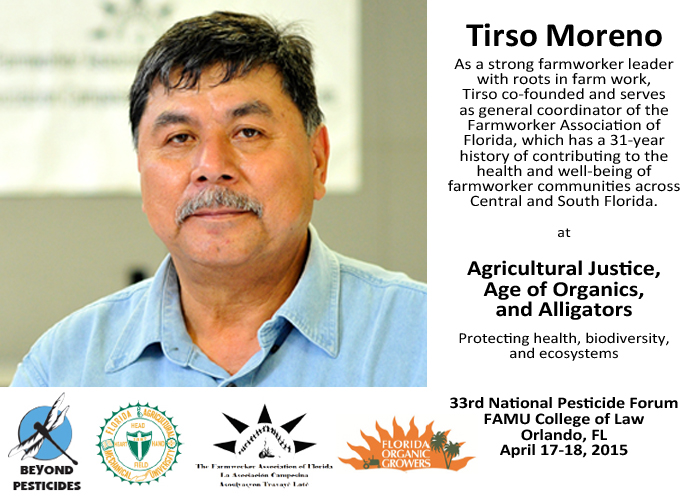 Other Featured Speakers:
Chensheng "Alex" Lu, PhD, MS is an Associate Professor of Environmental Exposure Biology in the Department of Environmental Health at the Harvard School of Public Health (HSPH). His research focuses on understanding how pesticides affect ecological and human health, and has recently extended his work to saving pollinators, specifically honeybees, from the hazards of a group of insecticides, neonicotinoids. As of December 2014, Dr. Lu has published 64 peer-review articles including the study, Sub-lethal exposure to neonicotinoids impaired honey bees winterization before proceeding to colony collapse disorder, which replicates a previous study and demonstrates again that neonicotinoids are "highly likely to triggering be responsible for triggering CCD in honeybee hives that were healthy prior to the arrival to winter."
Sonia Faruqi, An unconventional author with an original approach, Sonia Faruqi stands primed to become one of the most important voices in food today. Her first book, Project Animal Farm, promises to entertain and enlighten readers, and to improve the lives of people and animals around the world. Her work focuses on improving farm animal lives, helping consumers live more conscientiously, helping farmers farm better, and making land more sustainable. Her goal is to make the world a better place for all its inhabitants.
Marty Mesh, is an expert in sustainable agriculture. He has dedicated more than 40 years to a more environmentally responsible and socially just form of agriculture. Marty helped form Florida Certified Organic Growers and Consumers (FOG), a nonprofit organization in 1987 with the goal of educating farmers and the public about organic production through their programs and initiatives. He has served as FOG's executive director since 1995. In addition, he has been listed by Natural Food Merchandiser as one of the Top 25 People Who Have Most Influenced the Organic Industry and was the recipient of the Organic Trade Association's Growing the Organic Industry award. Mesh was also featured in and co-produced the film What's Organic About Organic?
Hari Pulapaka, PhD, CEC, was one of 15 chefs from around the nation for the James Beard Foundation's first official Chefs Boot Camp for Policy & Change in 2013, and joined more than 700 chefs last December to urge Congress to support legislation mandating GMO labeling. Hari was born and raised in the bustling metropolis of Mumbai (formerly, Bombay). He came to the United States in 1987 to pursue graduate studies in Mathematics. Today, Hari is a classically trained James Beard nominated Chef as well as an active tenured Associate Professor of Mathematics at Stetson University. Hari teaches full-time at Stetson University during the day and returns to the kitchen at Cress at night.
Click here to see our preliminary list of speakers, and check back often as we add more!
Registration Information
Register online here! General admission is $40 for members and grassroots activists, $20 for students with current ID, and $75 for non-members (includes 1-year membership and totebag). Avoid the $5 late fee by registering before March 15th! In addition to access to all plenary sessions, discussions-based workshops, tour (by RSVP), and printed materials, registration also includes organic food and drink (breakfast, lunch, dinner and two receptions with hors d'oeuvres, beer and wine).
For more information on the program, including a full list of speakers and registration information, please see www.beyondpesticides.org/forum.
We would like to thank everyone who was able to be a part of Advancing Sustainable Communities: People, pollinators and practices, the 32nd National Pesticide Forum, at Portland State University, in Portland, OR. Videos from the 32nd National Pesticide Forum last year in Portland, OR are available to watch on our YouTube Channel.
All unattributed positions and opinions in this piece are those of Beyond Pesticides