16
Sep
(Beyond Pesticides, September 16, 2014) In light of President Obama's Memorandum directing federal agencies to take action on pollinator declines, groups and members of Congress are calling on the U.S. Environmental Protection Agency (EPA) to take meaningful steps to save our bees. In a letter to EPA, U.S.Representatives Earl Blumenauer (D-OR) and John Conyers (D-MI) are urging the agency to follow the lead of the U.S. Fish and Wildlife Service (FWS) and revise pesticide regulations to protect pollinators from exposure to bee-toxic neonicointoids.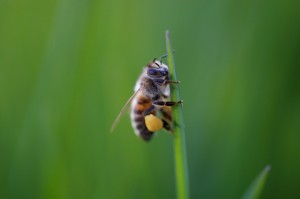 >>Ask Your Representative to Join the Call: Urge Your Member of Congress to Sign-on to the Blumenauer-Conyers Letter to EPA!
Pollinators, including honeybees, bumblebees, butterflies, and other insects, play a critical role in our agriculture systems. More than 70% of America's food sources are pollinated by bees and the worldwide economic value of bee‐pollinated crops is as high as $125 billion per year. Since 2006, however, beekeepers have lost more than 30% of their hives annually—a huge threat to the vitality of our farms.
Pollinators are a critical driver of healthy, nutrient-dense foods. One in three bites of food depends on honey bees and other pollinators, and without them food prices are sure to rise and some of our favorite foods may become unavailable. To be certain, continued declines of these essential species are unacceptable in light of policy actions that can be taken by EPA now.
We need to put public pressure on our elected members of Congress. Have them join Representative Conyers and Blumenauer in telling EPA to follow the lead of FWS and take the right steps to forward pollinator health.

New Legislation Would Support Industry, Undermine Pollinator Health
Elsewhere in the halls of Congress, a new pollinator bill claims to address the crisis through the introduction of more pesticides. HR 5447, introduced by Rep. Austin Scott (R-GA), would amend the Federal Insecticide, Fungicide and Rodenticide Act (FIFRA) to speed up the registration of new pesticides to control "parasitic pests" such as the varroa mite.
Rather than an actual solution to the pollinator crisis, this bill, supported by the umbrella group CropLife America, represents the latest from the pesticide industry's deceptive public relations tactics. A report released by Friends of the Earth last April, Follow the Honey: 7 Ways Pesticide Companies Are Spinning the Bee Crisis to Protect Profits, spells out the ways in which neonicotinoid manufacturers are "spinning" the bee crisis and muddying the science in order to stop government action that would restrict their profitable insecticides. Although varroa mites may be contributing factors to the decline of honey bees, recent science has revealed toxic, persistent and systemic neonicotinoid pesticides as the driving factor behind declines not only in pollinators, but in other wildlife such as birds.
"Beekeepers do not consider mites as the top problem, and many like myself find it a non-issue. Pesticides are still the number one issue for all beekeepers," said New York beekeeper Jim Doan in a press release from the Center for Food Safety.
Rep. Scott, who introduced HR 5447, is the chairman of the House Agriculture Subcommittee on Horticulture Research, Biotechnology and Foreign Agriculture. Earlier this year, this subcommittee sponsored a Capitol Hill hearing on pollinator health. However, the hearing included no independent scientists on the leading edge of bee research, and no beekeepers that are experiencing first-hand the die off of their honey bee colonies. No mention of pesticide risks were discussed by the industry dominated panel.
While the pesticide industry pushes the introduction of additional pesticides as the solution to the bee crisis, its actions stand to undermine a bill that would affect real change for pollinators, beekeepers, and the U.S. agricultural economy. The Saving America's Pollinators Act, championed by Reps. Conyers and Blumenauer, would suspend the use of four toxic neonicointoid pesticides until EPA conducts a full review of their safety.
As pesticide manufacturers go on the offensive with the introduction of HR 5447 and their request to EPA to raise the allowable levels of neonicointoids on certain crops, it is more important than ever that we reach out to our U.S. Representatives. Ask them to support the efforts of Congressmen Blumenauer and Conyers by co-sponsoring the Saving America's Pollinators Act and joining with them on their letter to EPA.
Source: Center for Food Safety Press Release
Photo Credit: Sierra Castillio, Santa Rosa, CA